Violeta Luca is the new GM of Microsoft Romania

Microsoft announces the appointment of Violeta Luca as the new General Manager for the company's operations in Romania, starting November this year.

Violeta Luca joined Microsoft Romania in February 2015 as Head of Strategy to lead and coordinate the local transformation strategy of the company and subsequently assumed the responsibilities of the Marketing & Operations Director until February 2017.

Violeta Luca holds expertise as manager both in Microsoft Romania and in Whirlpool, Flanco, eMag and Metro Cash & Carry Romania, where she has been a member of the Board of Directors for almost two years. Graduate of the Academy of Economic Studies in Bucharest, as well as numerous management courses, Violeta Luca, 38, has over 17 years of experience in IT and retail.

"I think that technology is more than ever the solution that supports evolution in all areas, whether economics, society or culture. Microsoft has taken on the role of development facilitator and Romania, with its IT tradition, has all the prerequisites to amplify the impact of technology both locally and globally. I wish that together with our team and Microsoft partners we support, through accessible, scalable, customizable technologies, the digitization paths for a large number of organizations on the Romanian market both in the public and private sector ", Violeta Luca stated from her new position.

---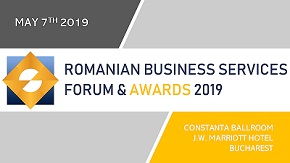 » Nomination are now open for Romanian B...
» PwC: The competitive advantages of Rom...
» Genpact, Luxoft and Oracle, top lessee...
» Philippe Beucher takes a new opportuni...
» CBRE: Romanian outsourcing industry ha...
» Romanian Outsourcing Summit 2016: Walk...
» Romanian Outsourcing Awards for Excell...
» The Outsourcing industry announces its...
» CrowdStrike opens a new center of inno...
» Gartner: Romania moved into the first ...

Nomination are now open for Romanian Business Services Forum and Awards

Nominations have opened for the prestigious Romanian Business Services Forum & Awards. The 2019 awards will continue to recognize and reinforce the important contribution made by business services professionals
Read Full article »
Study: 89 per cent of finance teams yet to embrace Artificial Intelligence

Report by Association of International Certified Professional Accountants and Oracle shows that almost 90 per cent of finance teams do not have the skills to support digital transformation.
Read Full article »
Bucharest, in the top of cities in Europe with the largest number of experts in high-tech industry

Bucharest is among the top cities boasting the most experts in the high-tech innovative industry, with over 70,000 current employees, next to London, Dublin, Madrid or Budapest, reads a study conducted by CBRE
Read Full article »
CBRE study: Post-millennials, the happiest about their offices

During 2018, real estate consultancy company CBRE conducted the first study dedicated to work environment in office buildings in Bucharest. The respondents have been structured in four age segments, such as Z g
Read Full article »
Deloitte's Tech Trends 2019 report: Beyond the digital frontier

The recently released Deloitte's Tech Trends 2019: Beyond the digital frontier, as each Tech Trends report in the series conducted by the consultancy company, lobbies for embracing the increasing, often mind-b
Read Full article »