Office leasing transactions up to 73.500 sqm in Bucharest in Q3 of 2018


The office market in Bucharest registered a total volume of 75,300 sqm of rental transactions in the third quarter of 2018, of which the new demand was 20,400 sqm. According to Colliers International real estate consultancy, the demands came largely from the professional services and IT & C segments.


"The TLA (total leased area) which includes, in addition to the actual rentals, renegotiations and contract extensions - was approximately 73,500 sqm, up 18 per cent from 2017. In contrast, the new demand was estimated at 20,400 sqm, half the level of last year. For the first nine months of the year, there is clearly a moderation in rental activity and a balancing of the office market, "said Silviu Pop, Head of Research at Colliers International Romania.

In the first nine months of the year, most of the demand came from companies offering professional services (26 per cent - including co-working), followed closely by IT & C companies (25 per cent) and energy and industrial companies (19 per cent). Also, only the co-working segment resulted in 20 per cent of net demand, or 10.4 per cent of total demand. "The magnitude of this phenomenon, highlighted by the entry of Mindspace and Spaces into the local market, contributes to the sense of slowing down the office market, as this part of the new demand is not correlated with an increase in employment," said Sebastian Dragomir, Head of Office Advisory at Colliers International.

In the first three quarters of 2018, the rental activity was dominated by central areas (32 per cent), followed by West-West (18 per cent) and West (13 per cent). On the other hand, areas in northern Bucharest - Dimitrie Pompeiu, Press / Exhibition Square and Floreasca-Barbu Vacarescu - were less sought after (12 per cent, 10 per cent and 6 per cent respectively).

Regarding rents, they remained broadly stable, although some areas such as Floreasca - Barbu Văcărescu, felt some pressure on them as a result of the strong demand from tenants and the low degree of vacancy. "Similarly, downward pressure on rents may also be felt in the future due to more and more frequent relocation of modern office buildings (competitive stock), a phenomenon that increased in the first three quarters of 2018 to a maximum post-crisis of 26 per cent of total demand, "added Sebastian Dragomir.


---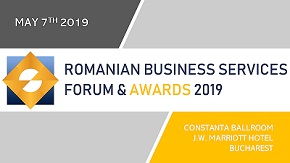 » Nomination are now open for Romanian B...
» PwC: The competitive advantages of Rom...
» Genpact, Luxoft and Oracle, top lessee...
» Philippe Beucher takes a new opportuni...
» CBRE: Romanian outsourcing industry ha...
» Romanian Outsourcing Summit 2016: Walk...
» Romanian Outsourcing Awards for Excell...
» The Outsourcing industry announces its...
» CrowdStrike opens a new center of inno...
» Tremend joins Mellanox in powering the...

Nomination are now open for Romanian Business Services Forum and Awards

Nominations have opened for the prestigious Romanian Business Services Forum & Awards. The 2019 awards will continue to recognize and reinforce the important contribution made by business services professionals
Read Full article »
Study: 89 per cent of finance teams yet to embrace Artificial Intelligence

Report by Association of International Certified Professional Accountants and Oracle shows that almost 90 per cent of finance teams do not have the skills to support digital transformation.
Read Full article »
Bucharest, in the top of cities in Europe with the largest number of experts in high-tech industry

Bucharest is among the top cities boasting the most experts in the high-tech innovative industry, with over 70,000 current employees, next to London, Dublin, Madrid or Budapest, reads a study conducted by CBRE
Read Full article »
CBRE study: Post-millennials, the happiest about their offices

During 2018, real estate consultancy company CBRE conducted the first study dedicated to work environment in office buildings in Bucharest. The respondents have been structured in four age segments, such as Z g
Read Full article »
Deloitte's Tech Trends 2019 report: Beyond the digital frontier

The recently released Deloitte's Tech Trends 2019: Beyond the digital frontier, as each Tech Trends report in the series conducted by the consultancy company, lobbies for embracing the increasing, often mind-b
Read Full article »