Office market demand in Bucharest reached 220.000 sqm in the first nine months of 2018

The office market demand is estimated to have reached 220.000 sqm in the first nine months of 2018, according to the latest study findings delivered by CBRE.

Within this amount, 76 per cent from the demand have been represented by office in A-class buildings. In Q3 of 2018, the consultant estimated around 73.000 sqm trans actioned, out of which 70 per cent are located in A-class buildings.

"The office space market has grown at a fast pace in 2018, driven by both the growth in consumption that has prompted the expansion of many companies and the decrease in the available surfaces. The results of the first three quarters of the year, in terms of delivered surfaces, are increasing over the same period in 2017, but there is still room for market for new projects. In 2019, we estimate an increase in activity, with 15 projects announced for completion and about 341,000 m2 to be delivered, according to our estimates. Also, 40% of the total surface that will be ready in 2019 is already leased, which is still a proof of the companies' appetite for finding offices suitable for their needs, "said Mihai Păduroiu, Head of Advisory & Transaction Services | Investor Leasing al CBRE Romania.

In the first three quarters of 2018, the new delivered projects reached 133.000 sqm, 18 per cent higher compared to the same period of 2017, when around 109.000 sqm have been delivered.

According to the CBRE study, the Bucharest office market splits in seven business areas, where the main office buildings are concentrated, five of these areas delivering modern office spaces of over 400.000 sqm. The Northern area of Bucharest concentrates 27 per cent of total stock, followed by Pipera area, with 24 per cent, downtown with 16 per cent, CBD with 15 per cent and Western area with 14 per cent.

---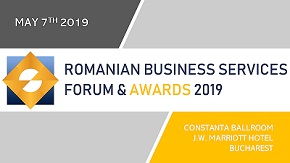 » Nomination are now open for Romanian B...
» PwC: The competitive advantages of Rom...
» Genpact, Luxoft and Oracle, top lessee...
» Philippe Beucher takes a new opportuni...
» CBRE: Romanian outsourcing industry ha...
» Romanian Outsourcing Summit 2016: Walk...
» Romanian Outsourcing Awards for Excell...
» The Outsourcing industry announces its...
» CrowdStrike opens a new center of inno...
» Gartner: Romania moved into the first ...

Nomination are now open for Romanian Business Services Forum and Awards

Nominations have opened for the prestigious Romanian Business Services Forum & Awards. The 2019 awards will continue to recognize and reinforce the important contribution made by business services professionals
Read Full article »
Study: 89 per cent of finance teams yet to embrace Artificial Intelligence

Report by Association of International Certified Professional Accountants and Oracle shows that almost 90 per cent of finance teams do not have the skills to support digital transformation.
Read Full article »
Bucharest, in the top of cities in Europe with the largest number of experts in high-tech industry

Bucharest is among the top cities boasting the most experts in the high-tech innovative industry, with over 70,000 current employees, next to London, Dublin, Madrid or Budapest, reads a study conducted by CBRE
Read Full article »
CBRE study: Post-millennials, the happiest about their offices

During 2018, real estate consultancy company CBRE conducted the first study dedicated to work environment in office buildings in Bucharest. The respondents have been structured in four age segments, such as Z g
Read Full article »
Deloitte's Tech Trends 2019 report: Beyond the digital frontier

The recently released Deloitte's Tech Trends 2019: Beyond the digital frontier, as each Tech Trends report in the series conducted by the consultancy company, lobbies for embracing the increasing, often mind-b
Read Full article »