TEDxBucharest welcomes 19 international speakers on the stage at the end of this November

The TEDxBucharest conference series reaches its tenth edition to happen between November 30 – December 1, at Auditorium Pallady, with 19 international speakers on the stage.

This year's edition is inspired by Crossing Boundaries general theme and delivers a substantial roundup of speakers, such as Alyssa Carsos, Youngest astronaut in training, MARS ONE Ambassador, Nadya Zhexembayeva, Reinvention Specialist, Sustainability strategist, Andrei Tudor, a 10-year old Robotics Mastermind, and Passionate apprentice, Laura Raetchi, UN Political Affairs and Peacekeeping expert, Gregory Caremans, Brain Master and Founder of the Brain Academy, among others.

The complete list is to be found on the official website at TEDxBucharest


"Our modern existence is defined by socially accepted limits, both physical and psychological. And we're told they are meant to keep us safe and enable us to operate optimally within society. But the people who changed the world are those who challenged limits. They committed acts of disobedience or empathy and caused a shift in the way we understand our emotions which ultimately lead to innovation. Once a boundary is breached, it's breached forever. Those who dare change, those are the ones who create something together, breaking down silos and transforming lives, crossing perimeters of territory, industry, race or identity.

It's time to object to these borders with ideas. It's time to burst the bubble and cross off the lines guarded by fear and uncertainty. And it's time to embrace change and address what IS possible. At the 10th edition of TEDxBucharest we aim to push ideas even further, breaking them out of schools, out of books and out of gender and racial constructs. This year we will challenge you to cross your boundaries. Because you don't just happen," a special statement of this year's edition utters.


TEDxBucharest is an independently and locally organized event, running in Bucharest ever since 2009. We aim to become an instrument designed for positive change and development in the local and national community of thinkers and doers. We have been creating valuable connections between stellar individuals, great ideas and our local community. In doing so, we have established ourselves as a landmark meeting place for innovative ideas, high-achieving individuals and inspired partnerships.

---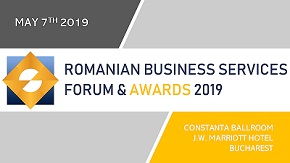 » Nomination are now open for Romanian B...
» PwC: The competitive advantages of Rom...
» Genpact, Luxoft and Oracle, top lessee...
» Philippe Beucher takes a new opportuni...
» CBRE: Romanian outsourcing industry ha...
» Romanian Outsourcing Summit 2016: Walk...
» Romanian Outsourcing Awards for Excell...
» The Outsourcing industry announces its...
» CrowdStrike opens a new center of inno...
» Tremend joins Mellanox in powering the...

Nomination are now open for Romanian Business Services Forum and Awards

Nominations have opened for the prestigious Romanian Business Services Forum & Awards. The 2019 awards will continue to recognize and reinforce the important contribution made by business services professionals
Read Full article »
Study: 89 per cent of finance teams yet to embrace Artificial Intelligence

Report by Association of International Certified Professional Accountants and Oracle shows that almost 90 per cent of finance teams do not have the skills to support digital transformation.
Read Full article »
Bucharest, in the top of cities in Europe with the largest number of experts in high-tech industry

Bucharest is among the top cities boasting the most experts in the high-tech innovative industry, with over 70,000 current employees, next to London, Dublin, Madrid or Budapest, reads a study conducted by CBRE
Read Full article »
CBRE study: Post-millennials, the happiest about their offices

During 2018, real estate consultancy company CBRE conducted the first study dedicated to work environment in office buildings in Bucharest. The respondents have been structured in four age segments, such as Z g
Read Full article »
Deloitte's Tech Trends 2019 report: Beyond the digital frontier

The recently released Deloitte's Tech Trends 2019: Beyond the digital frontier, as each Tech Trends report in the series conducted by the consultancy company, lobbies for embracing the increasing, often mind-b
Read Full article »