Keep the communication channels open

The necessity of creating a functional dialogue within a company has been underlined by Denisa Panaite Casu, PwC Academy Manager, Romania, in the panel of the recently held People in Shared Services and Outsourcing Forum.



The specialist underlines the need of starting "a mature conversation about what is in the agenda for a company regarding the job turnover... everything that matters to employee and employer. Keep the communication channels open. People and companies should be part of the solutions, because Governments and authorities will not be enough to solve the problems in the necessary timeframe. HR needs to be swift to more added value talks, to be more valuable, more transparent. We need to make sure that leadership is an active part of the story. Right now, people are interested about more than salaries and benefits. We need to treat things as a partnership. We don't have to be on opposite sides, we need to engage in dialogue," Casu said.

There is a practice at PwC, as Denisa Casu details, called "reversed mentoring program", that at a functional level enables team work and a better understanding and implementation of tech skills and job expertise. In this respect, the young professionals, tech-savvy by nature, can became mentors for more experienced colleagues, enabling by this a profound, easy and efficient exchange of know-how. Also, the technical departments are creating and implementing digital solutions for different departments to answer different needs. According to PwC's manager, interpersonal skills will become more and more important and once the jobs are transforming, the cooperation is very important, to train the employees, to invest in their continuous learning.

Denisa Casu also detailed the company's global framework project, ADAPT, which outlines five urgent global issues facing the world today and their implications: asymmetry, disruption, age, populism, and trust.

"It has become apparent that the long-term phenomena of the Megatrends are already upon us. Governments, organizations and society are all struggling with the near-term manifestations of these trends and looking for answers. The program is helping the company's clients to focus on these challenges using this framework," as stated in the study description.



---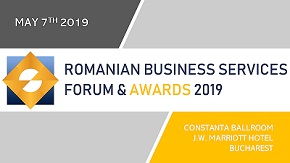 » Nomination are now open for Romanian B...
» PwC: The competitive advantages of Rom...
» Genpact, Luxoft and Oracle, top lessee...
» Philippe Beucher takes a new opportuni...
» CBRE: Romanian outsourcing industry ha...
» Romanian Outsourcing Summit 2016: Walk...
» Romanian Outsourcing Awards for Excell...
» The Outsourcing industry announces its...
» CrowdStrike opens a new center of inno...
» Tremend joins Mellanox in powering the...

Nomination are now open for Romanian Business Services Forum and Awards

Nominations have opened for the prestigious Romanian Business Services Forum & Awards. The 2019 awards will continue to recognize and reinforce the important contribution made by business services professionals
Read Full article »
Study: 89 per cent of finance teams yet to embrace Artificial Intelligence

Report by Association of International Certified Professional Accountants and Oracle shows that almost 90 per cent of finance teams do not have the skills to support digital transformation.
Read Full article »
Bucharest, in the top of cities in Europe with the largest number of experts in high-tech industry

Bucharest is among the top cities boasting the most experts in the high-tech innovative industry, with over 70,000 current employees, next to London, Dublin, Madrid or Budapest, reads a study conducted by CBRE
Read Full article »
CBRE study: Post-millennials, the happiest about their offices

During 2018, real estate consultancy company CBRE conducted the first study dedicated to work environment in office buildings in Bucharest. The respondents have been structured in four age segments, such as Z g
Read Full article »
Deloitte's Tech Trends 2019 report: Beyond the digital frontier

The recently released Deloitte's Tech Trends 2019: Beyond the digital frontier, as each Tech Trends report in the series conducted by the consultancy company, lobbies for embracing the increasing, often mind-b
Read Full article »