SG EBS and PASsE-Par-Nous partnership with Elias University Emergency Hospital to create a new a new section to treat infectious diseases

Societe Generale European Business Services (SG EBS) and PASsE-Par-Nous association join forces with Bucharest-based Elias University Emergency Hospital to create a new section dedicated to infectious diseases.

With the support of PASsE-Par-Nous Association, the Elias Emergency University Hospital identified the need for a separate department within the hospital dedicated to infectious diseases that has the capacity to isolate and treat patients with infectious pathologies or colonized with drug-resistant germs. This new structure is designed to provide the right configuration in terms of space, human resources, processes and procedures for treating infections. Besides the construction of the section, other problems were identified, such as the need for proper use of hospital resources and the need to optimize the processes, all of which were carried out with the help of Societe Generale European Business Services (SG EBS).

A team of 15 volunteers in SG EBS company has been working since March 2018 to analyze, define and optimize processes to provide more effective care to patients and create a balanced work environment for medical teams, thereby reducing administrative steps. The BI-Elias project, in which SG EBS and PASsE-Par-Nous teams are working, includes: creating a multidisciplinary team that is considered the standard for today's treatments, the first in the Romanian medical system; implementing an antibiotic administration program. The program is accompanied by measurements such as DOT (number of days in which a patient was exposed to the antibiotic, regardless of dose) and DDD (defined daily dose). This program will be a premiere for the Romanian health system.

"We are very proud of our contribution to the BI-Elias project that will bring important changes for each patient and medical staff at Elias Hospital. We believe that our work experience in a large company such as Societe Generale provides us with the tools to help the management of the Elias Emergency University Hospital become an example for the Romanian health system. This project provides not only a unique approach to CSR activities but also the possibility that our employees can actively contribute contribute to such a project, "said Matthieu Pasquier, CEO of SG EBS.

"PASsE-Par-Nous is a young and ambitious association with a mission centered on the field of education. We focus on three key aspects of education: educational philosophy and methodology, health and culture. These three aspects are essential to lead a balanced life. In PASsE-Par-Nous, we believe in balancing society by overcoming the gap between love and evolution. The BI-Elias project is our way of providing the Romanian medical system with a very seductive work based on efficiency. Efficiency will mean better and safer medical services for patients and a less stressful work environment for all medical and administrative staff. We will be able to do this both with the help of SG EBS for redefining and optimizing working processes, and by transforming the notion of collaboration into a necessity for any working environment, but also by creating culture around multidisciplinary teams, including and infectious physicians, "said Ana-Maria Dogaru, President of PASsE -Par-Nous.

"By creating an infectious disease section, we want to meet the needs of our patients and provide them with a safer hospital. We would like to thank PASsE-Par-Nous and Societe Generale European Business Services for all the assistance and support they have provided so far. and we look forward to other partners who would like to join us, "said Dr. Mugur Ardelean, Elias University Emergency Hospital Manager.

---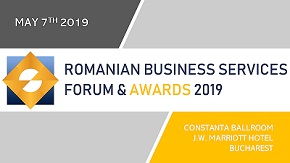 » Nomination are now open for Romanian B...
» PwC: The competitive advantages of Rom...
» Genpact, Luxoft and Oracle, top lessee...
» Philippe Beucher takes a new opportuni...
» CBRE: Romanian outsourcing industry ha...
» Romanian Outsourcing Summit 2016: Walk...
» Romanian Outsourcing Awards for Excell...
» The Outsourcing industry announces its...
» CrowdStrike opens a new center of inno...
» Gartner: Romania moved into the first ...

Nomination are now open for Romanian Business Services Forum and Awards

Nominations have opened for the prestigious Romanian Business Services Forum & Awards. The 2019 awards will continue to recognize and reinforce the important contribution made by business services professionals
Read Full article »
Study: 89 per cent of finance teams yet to embrace Artificial Intelligence

Report by Association of International Certified Professional Accountants and Oracle shows that almost 90 per cent of finance teams do not have the skills to support digital transformation.
Read Full article »
Bucharest, in the top of cities in Europe with the largest number of experts in high-tech industry

Bucharest is among the top cities boasting the most experts in the high-tech innovative industry, with over 70,000 current employees, next to London, Dublin, Madrid or Budapest, reads a study conducted by CBRE
Read Full article »
CBRE study: Post-millennials, the happiest about their offices

During 2018, real estate consultancy company CBRE conducted the first study dedicated to work environment in office buildings in Bucharest. The respondents have been structured in four age segments, such as Z g
Read Full article »
Deloitte's Tech Trends 2019 report: Beyond the digital frontier

The recently released Deloitte's Tech Trends 2019: Beyond the digital frontier, as each Tech Trends report in the series conducted by the consultancy company, lobbies for embracing the increasing, often mind-b
Read Full article »