CBRE research: The first study on the impact of workplace in the activity of employees

The latest study conducted in Bucharest by CBRE real estate consultancy company focused on the impact of workplace in the activity of employees. The study also underlined the manner a workplace answers to employees' needs and the quality of workplaces.

The CBRE research was conducted for a period of nine months and included 500 employees working in offices in Bucharest. The participants were divided into four age categories for each generation: generation Z (18-24 years) with 9 per cent share in the study, generation Y (25-34 years) with 35 per cent share, generation X (35-49 years) with 49 per cent share and seniors or baby-boomers (50-64 years) with 7 per cent share within the total of answers. the 500 respondents work in all areas of Bucharest: 26 per cent Western Bucharest, 22 percent in Northern Bucharest, 22 per cent in Central Bucharest, 14 per cent in Pipera area, 11 per cent in Victoriei and Charles de Gaulle areas, 5 per cent in Eastern Bucharest and 3 per cent in Southern Bucharest. According to the study, most of respondents *43 per cent" work in IT and business shared services.


The CBRE study conclusions showed that:
- 55 per cent of respondents spend during 30 and 60 minutes to travel from home to their offices, with the satisfaction time regarding work traveling increasing with the decrease of time
- the employees' satisfaction feeling is directly linked to the workplace location and easy acces to transportation (76 per cent)
- 72 per cent of employees state the importance of using individual desks
- Generation Z (68 per cent) considers the after work time dedicated to personal life very important when choosing a certain workplace. The criteria is shared also by generation Y (47 per cent), generation X (51 per cent) and baby-boomers (35 per cent).
- By 2020, generation Y (25-34 years) will stand for 50 percent of the local workforce


"Working conditions have a major impact on the well-being of the employee and, implicitly, on his productivity. Improving wellness standards is a global trend that has become increasingly strong in the local market in recent years. We have been concerned about the quality of the work environment for a long time and fortunately we have noticed that most developers and big companies in Romania have understood the importance of delivering projects that best meet the expectations and needs of the employee. But, to be able to offer the best product, you need to know exactly what the user wants, so you have to know it. This is the most important goal of this study that CBRE has been working for about a year and which has been dedicated to our research team with our most experienced consultants, "said Mihai Păduroiu, Head of Advisory & Transaction Services, Investor Leasing and Office at CBRE Romania.



---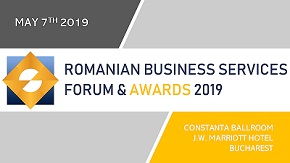 » Nomination are now open for Romanian B...
» PwC: The competitive advantages of Rom...
» Genpact, Luxoft and Oracle, top lessee...
» Philippe Beucher takes a new opportuni...
» CBRE: Romanian outsourcing industry ha...
» Romanian Outsourcing Summit 2016: Walk...
» Romanian Outsourcing Awards for Excell...
» The Outsourcing industry announces its...
» CrowdStrike opens a new center of inno...
» Tremend joins Mellanox in powering the...

Nomination are now open for Romanian Business Services Forum and Awards

Nominations have opened for the prestigious Romanian Business Services Forum & Awards. The 2019 awards will continue to recognize and reinforce the important contribution made by business services professionals
Read Full article »
Study: 89 per cent of finance teams yet to embrace Artificial Intelligence

Report by Association of International Certified Professional Accountants and Oracle shows that almost 90 per cent of finance teams do not have the skills to support digital transformation.
Read Full article »
Bucharest, in the top of cities in Europe with the largest number of experts in high-tech industry

Bucharest is among the top cities boasting the most experts in the high-tech innovative industry, with over 70,000 current employees, next to London, Dublin, Madrid or Budapest, reads a study conducted by CBRE
Read Full article »
CBRE study: Post-millennials, the happiest about their offices

During 2018, real estate consultancy company CBRE conducted the first study dedicated to work environment in office buildings in Bucharest. The respondents have been structured in four age segments, such as Z g
Read Full article »
Deloitte's Tech Trends 2019 report: Beyond the digital frontier

The recently released Deloitte's Tech Trends 2019: Beyond the digital frontier, as each Tech Trends report in the series conducted by the consultancy company, lobbies for embracing the increasing, often mind-b
Read Full article »