Creating a valuable customer experience driven by core values of a company

As HR becomes more and more integrated within the company's long-term strategic business strategies, the digitalization and high-technologies impacting the processes also have to be mirrored at the level of HR departments.

In the perspective of Ioana Muşat from TELUS International Romania, the industry has been slow to realize that even if the employees could be surrounded with the finest tools and technologies, if engagement is low and attrition high, customer service will still suffer. "Companies who are hyper-focused on creating a corporate culture that engages and inspires their teams are the ones who are successfully delivering outstanding customer experiences on a consistent and sustained basis. They know that customer experience will never exceed employee experience," Musat told Outsourcing Today. According to the manager, even in the increasingly digital environment where customer support personnel have access to flashy tools, technologies and analytics, it's those companies focused on creating a culture which puts their people first that will succeed over the long-term.

The Human Resources department is the first button to press in the digital transformation process of a company, and it has to find its grounds in the presence of technology. Specialists say that in Human Resources, it is especially imperative to have special HR software that will help effectively manage talent as well as optimize plans and strategies based on data.

From recruitment to learning to career development, all aspects of the employee experience have evolved. This means HR teams have similarly evolved by adopting new technologies, processes, approaches, and mindsets to meaningfully supporting increased employee engagement, growth, and operational excellence among other more specific business objectives. According to Ioana Muşat, HR Manager of TELUS International Romania, "In an increasingly digitized world, we need humans working in concert with technology for it to be effective. In our CX industry, we focus on and invest in the latest technology (Xavient Digital acquisition), but also on the people and the processes that are key to being able to deliver the human touch that customers are demanding in the 21st century," the manager told Outsourcing Today.


The same applies to other departments, which will have tools to digitize their processes. But none of these tools are useful if they are not also operated digitally.

This is why the HR department must be the first to become aware of this and occupy the start of a company's digital transformation plan. Training your employees to adapt and develop is the basis for any digital transformation. People and culture are often the biggest barriers to digital innovation. In addition to investing in technology, brands need to prepare their teams for the digital transformation by fostering a culture that empowers employees, optimizes operations, transforms products and services, and most importantly engages customers. Other aspects include training and development, as well as recruiting and engaging – because at the end of the day, you need to keep high-tech touch in order to create beautiful customer experiences which ultimately lead to top-line growth.



---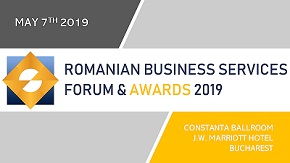 » Huawei opens a centre on cyber securit...
» ROMANIAN OUTSOURCING AWARDS FOR EXCELL...
» Romania ranks above EU average in gend...
» Bucharest, in the top of cities in Eur...
» Berg Software Romania: Reasons to outs...
» KPMG launches an application enabling ...
» Bogdan Pelinescu, president of ABSL: A...
» Meet the experts who will decide the w...
» ABSL GALA AWARDS celebrated its winner...
» Oracle reaches 4,200 employees and pla...

Colin C. Lovering: Meet the speakers at Romanian Business Services Forum & Awards 2019, on May 7

Colin C. Lovering has been living and working in Romania since 2009 when he arrived to offer consultancy and advice to organisations looking for growth and profitability and founded Achieve International.
Read Full article »
Antoniu Panait: Meet the speakers at Romanian Business Services Forum & Awards 2019, on May 7

Managing Director for VASTINT Romania since 2009, Antoniu Panait has an executive experience of more than 10 years, mainly in real estate.
Read Full article »
Andrei Voica: Meet the speakers at Romanian Business Services Forum & Awards 2019, on May 7

Andrei Voica, Director Project Management and Workplace Consultancy, Colliers International. Truly passionate about his work and always eager to add value to each project.
Read Full article »
Romulus Caralicea: Meet the speakers at Romanian Business Services Forum & Awards 2019, on May 7

Romulus is Wipro's Information Security, Risk & Compliance Lead for Europe. In his role he is managing internal audits and compliance activities for all clients and internal functions based on the corporate ISO
Read Full article »
George Didoiu: Meet the moderator of Romanian Business Services Forum 2019 CEO LEADERS DEBATE, on May 7

In his 15 years of real estate, George Didoiu advised on the relocation of top IT&C, finance-banking and consultancy companies, which total over 10,000 employees.
Read Full article »