Romanian IT group Bittnet issued new bonds were traded on BSE

A new series of corporate bonds issued by Romanian IT group Bittnet Systems was admitted to trading on the main market of the Bucharest Stock Exchange (BVB).

Bittnet's third trading on the BVB, is worth a total of 4.7 million lei ($1.14 million/1.09 million euro), the BVB said in a press release.The funds will be used chiefly to finance the acquisition of two companies.
"BNET23 bonds, listed starting today, allowed us to finance the acquisition of stakes in Elian as well as Equatorial and we are confident that the two newly integrated companies will play a crucial role in attaining the target we have set for the Group - 100 million lei in revenues by 2020," Bittnet CEO Mihai Logofatu said.

"Bittnet is one of the listed companies which has extensively used the financing sources offered by the capital market in order to accelerate its development. After the first trading day, on April 15, 2015, the capitalization of the campany was almost 8 million lei, and in less than four years, by using the financial instruments available in the capital market, the value of the company multiplied six times and exceed 50 million lei," BVB President of Board of Governors Lucian Anghel said.

In October, Bittnet signed an investment deal in the form of a business transfer agreement with local peer Crescendo International for 10.9 million lei.

Bittnet's first-half net profit doubled on the year to 411,000 lei due to improved performance in IT integration and cloud, and in IT training. Its consolidated revenues reached 23 million lei in first half of 2018, an increase of 2 per cent year-on-year. EBITDA also doubled year-on-year, reaching 1.4 million lei.In August, Bittnet signed a contract to buy a 25 per cent stake in game-based learning local firm Equatorial Gaming, using the proceeds of a private placement of corporate bonds. The placement was successfully closed at the beginning of July, raising 4.7 million lei.

A month earlier Bittnet signed an agreement for the acqusition of a controlling stake in IT company Elian Solutions. In the third quarter of 2017, Bittnet acquired GECAD NET, an IT services integrator, which is now present on the Romanian market under the Dendrio brand.

Bittnet was founded in 2007 by Mihai and Cristian Logofatu. The company focuses on IT training and delivering end-to-end IT infrastructure services and solutions from companies like Cisco, Microsoft, Dell, VMware and HP, among others.

It was the first Romanian IT company to be listed on the Alternative Trading System (AeRO) of the Bucharest Stock Exchange (BVB), in April 2015.


---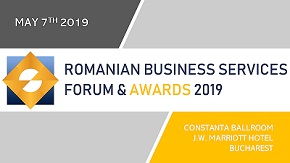 » Nomination are now open for Romanian B...
» PwC: The competitive advantages of Rom...
» Genpact, Luxoft and Oracle, top lessee...
» Philippe Beucher takes a new opportuni...
» CBRE: Romanian outsourcing industry ha...
» Romanian Outsourcing Summit 2016: Walk...
» Romanian Outsourcing Awards for Excell...
» The Outsourcing industry announces its...
» CrowdStrike opens a new center of inno...
» Tremend joins Mellanox in powering the...

Nomination are now open for Romanian Business Services Forum and Awards

Nominations have opened for the prestigious Romanian Business Services Forum & Awards. The 2019 awards will continue to recognize and reinforce the important contribution made by business services professionals
Read Full article »
Study: 89 per cent of finance teams yet to embrace Artificial Intelligence

Report by Association of International Certified Professional Accountants and Oracle shows that almost 90 per cent of finance teams do not have the skills to support digital transformation.
Read Full article »
Bucharest, in the top of cities in Europe with the largest number of experts in high-tech industry

Bucharest is among the top cities boasting the most experts in the high-tech innovative industry, with over 70,000 current employees, next to London, Dublin, Madrid or Budapest, reads a study conducted by CBRE
Read Full article »
CBRE study: Post-millennials, the happiest about their offices

During 2018, real estate consultancy company CBRE conducted the first study dedicated to work environment in office buildings in Bucharest. The respondents have been structured in four age segments, such as Z g
Read Full article »
Deloitte's Tech Trends 2019 report: Beyond the digital frontier

The recently released Deloitte's Tech Trends 2019: Beyond the digital frontier, as each Tech Trends report in the series conducted by the consultancy company, lobbies for embracing the increasing, often mind-b
Read Full article »