The software industry's input in Romanian economy was 5.4 billion Euro in 2018

According to the latest analysis of KeysFin, 17,000 companies operating in the Romanian software industry generate EUR 5.4 billion in turnover and employ 106,000 people generates 5.4 billion Euro in 2018 in Romania.

In 2017, their turnover went up to 4.9 billion Euro, and this year is estimated to exceed 5.4 billion Euro, according to an analysis conducted by KeysFin. Since 2007, the software companies reported businesses increased by 150 per cent and compared to 2016, the boost was estimated at 5.4 per cent, a sign that this industry reached a maturity in the local economy landscape. The largest turnovers have been accomplished by multinationals such as Oracle Romania, with a turnover of 221 million Euro and a share of 4.5 per cent within the total volumes of businesses, followed by IBM Romania, with 195 million Euro, Ericsson Romania, with 159 million Euro, Endava Romania, with 82.5 million Euro and Atos IT with 73.3 million Euro. The top includes also Bitdefender, maintaining its position from 2017.

Also, the most performant company in terms of generating profits is Sap Romania, with 20 million Euro, but also IBM, Atos, Logic IT and Misys. The five companies generated 11 percent from the industry's overall profit figures.

The IT&C industry continues to top the employers ranking in Romania, with Microsoft Romania, Oracle Romania and Zitec ranking the first, second and third among the most appreciated companies by employees. Compared to last year, Microsoft Romania is climbing up one position, reaching the first position, while Oracle is climbing down on the second one. Zitec, a Romanian IT company, saw a strong rise in the employers' ranking.


---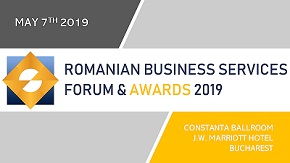 » Nomination are now open for Romanian B...
» PwC: The competitive advantages of Rom...
» Genpact, Luxoft and Oracle, top lessee...
» Philippe Beucher takes a new opportuni...
» CBRE: Romanian outsourcing industry ha...
» Romanian Outsourcing Summit 2016: Walk...
» Romanian Outsourcing Awards for Excell...
» The Outsourcing industry announces its...
» CrowdStrike opens a new center of inno...
» Tremend joins Mellanox in powering the...

Nomination are now open for Romanian Business Services Forum and Awards

Nominations have opened for the prestigious Romanian Business Services Forum & Awards. The 2019 awards will continue to recognize and reinforce the important contribution made by business services professionals
Read Full article »
Study: 89 per cent of finance teams yet to embrace Artificial Intelligence

Report by Association of International Certified Professional Accountants and Oracle shows that almost 90 per cent of finance teams do not have the skills to support digital transformation.
Read Full article »
Bucharest, in the top of cities in Europe with the largest number of experts in high-tech industry

Bucharest is among the top cities boasting the most experts in the high-tech innovative industry, with over 70,000 current employees, next to London, Dublin, Madrid or Budapest, reads a study conducted by CBRE
Read Full article »
CBRE study: Post-millennials, the happiest about their offices

During 2018, real estate consultancy company CBRE conducted the first study dedicated to work environment in office buildings in Bucharest. The respondents have been structured in four age segments, such as Z g
Read Full article »
Deloitte's Tech Trends 2019 report: Beyond the digital frontier

The recently released Deloitte's Tech Trends 2019: Beyond the digital frontier, as each Tech Trends report in the series conducted by the consultancy company, lobbies for embracing the increasing, often mind-b
Read Full article »