Ascentis: The top ten HR trends for 2019

Ascentis, specializing in in integrated Human Capital Management software published the main HR trends for 2019, findings resulted from the work together with their workforce and leadership strategist Eric Swenson, author of "Managing People in the 21st Century" and "The Five A's of Great Employees."

Find below some of their conclusions anticipated to rule the HR field this year:

Employees rule the roost

We all know that the most successful companies have the best talent. With the unemployment rate at a record low, attracting and retaining great employees has never been tougher. With over seven million current job openings in the U.S., there are more jobs than qualified talent. And on top of that, there is the growing trend of the "gig worker" to contend with, pulling even more qualified applicants out of the running for your openings. In 2019, the C-Suite and your HR department must develop strategies to provide an employee experience that attracts and retains the talent you need.

Preparing for the new workforce

Tomorrow's workforce will be increasingly gig-based, remote and transient. In fact, 60% of Millennials tell Gallup they're open to new job opportunities. And remote workers aren't just working from home – increasingly they're working internationally. Every HR function will need to innovate to serve this new workforce – from recruiting to training to recognition programs, team building and engagement.

The rise of technology

Technology will continue to be HR's friend – maybe their best friend – as companies spend more money on technology for recruiting, wellness, performance management, training and engagement. In the not-so-distant future, HR will increase its role in the digital world and play a key role in driving the employee experience and driving productivity and innovation.

Lost connection

As remote working becomes more common, engagement becomes more difficult as employees have fewer opportunities to absorb company culture in person. Sixty one percent of employees leave their jobs because it wasn't what they were expecting. Layer a virtual work environment on top of that, and meaningful connections become even more complex. In 2019, HR leaders will look to get creative in integrating culture into all aspects of the employee experience – from pre-hire to onboarding to ongoing engagement and retention.

Leadership becomes humble, attentive and trustworthy

According to Gallup, employees who use their strengths, skills and abilities every day are six times more likely to be engaged at work, eight percent more productive and 15 percent less likely to leave their jobs. The most innovative leaders will increasingly embrace the idea that "One-Size-Fits-One", carving career paths that play to employees' strengths and personal priorities, and that creates an atmosphere of innovation.

HR evolves or…

As an HR leader, you'll be called upon to lead the adaptation to real change. More than ever, HR will transition from a tactical role to a strategic role, becoming experts in technology, strategy, real estate and marketing all geared toward building a best-in-class workplace. The consequence of not adapting is steep; artificial intelligence has the ability to swallow teams whole if they cannot keep up with innovation.

Purpose matters

Employees don't just want a paycheck. They want to find meaning in their work. In fact, on average, Millennials would be willing to give up $7,600 in salary for improved quality of work life. The best HR leaders will increasingly evaluate social purpose and corporate responsibility and how it fits into organizational values and goals.

Millennials don't matter (well, kind of)

You're not preparing for the new Millennial workforce. They're already here and their needs are straightforward – technology that helps them be more productive, professional development opportunities, collaboration, purpose and work/life balance – but you must continue to meet these needs because they comprise over half of your workforce.

#metoo not going away

As an HR professional, you'll need to continue to address the important issue of workplace harassment while redefining what is and what isn't harassment. More women are taking leadership positions, which further impacts what #metoo is and how it must be addressed in the workplace.
Workplaces begin to adapt to the education gap. As the fight for employees continues, employers will need to take a chance on less skilled or educated employees and invest the time and resources necessary for training and upskilling.

---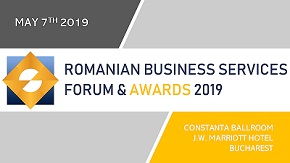 » Meet the winners of ROMANIAN BUSINESS ...
» Evolving from consumers of resources t...
» ROMANIAN OUTSOURCING AWARDS FOR EXCELL...
» Pepper Escu, the first humanoid robot ...
» Rebranding Creativity 2019, the first ...
» Volvo Cars and Uber present production...
» Preparing for the new future
» Berg Software Romania: Reasons to outs...
» George Rotariu, CEO Bitcoin Romania: B...
» George Didoiu: Meet the moderator of R...

Digital Transformation Conference to take place on June 19 at Bucharest

The Diplomat – Bucharest organizes Digital Transformation Conference to be held on 14 of June in Bucharest, at Hilton Hotel - Regina Maria Hall, starting 8:30 AM.
Read Full article »
L&D Conference by The Diplomat Bucharest took place on June 4th at Bucharest

The Diplomat-Bucharest organizes the Third Edition of its Learning & Development CONFERENCE on 4 June, 2019 at InterContinental Hotel Bucharest starting 09:00 am.
Read Full article »
Meet the winners of ROMANIAN BUSINESS SERVICES AWARDS, 2019 edition

ROMANIAN BUSINESS SERVICES FORUM & AWARDS 2019, in its fifth year, brrought on May 7, in Bucharest, a new concept event with engaging keynote sessions by industry leaders, interactive panel discussions, network
Read Full article »
Few hours away from to the long awaited CEO Leaders Debate, a premiere of Romanian Business Services Forum and Awards

We are a few hours away to the long awaited CEO Leaders Debate, a premiere of Romanian Business Services Forum and Awards on May 7.
Read Full article »
Colin C. Lovering: Meet the speakers at Romanian Business Services Forum & Awards 2019, on May 7

Colin C. Lovering has been living and working in Romania since 2009 when he arrived to offer consultancy and advice to organisations looking for growth and profitability and founded Achieve International.
Read Full article »