DXC Technology to Acquire Leading Digital Innovator Luxoft

End-to-end IT services and solutions developer DXC Technology and Luxoft Holding announced a definitive agreement for DXC to acquire Luxoft, a global-scale digital innovator with differentiated offerings, deep vertical industry expertise and world-class digital talent.

Pursuant to the agreement between DXC and Luxoft, all of the issued and outstanding Luxoft Class A and Class B ordinary shares will receive $59.00 per share in cash, representing a total equity value of approximately 2 billion US dollars.

Closing of the transaction is anticipated by June 2019 and is subject to customary conditions and regulatory approvals. Shareholders representing approximately 83 percent of the total voting power of Luxoft have delivered written consents in support of the transaction, as a result of which the requisite Luxoft shareholder approval has been obtained.


Together, DXC and Luxoft will offer a differentiated customer value proposition for end-to-end digital transformation by combining Luxoft's digital engineering capabilities with DXC's expertise in IT modernization and integration. The acquisition will accelerate the digital growth and scale-out strategy outlined by DXC at its Investor Day last fall, and will broaden access to key digital talent.

Luxoft provides digital strategy consulting and engineering services for companies across North America, Europe and the Asia Pacific region. Headquartered in Zug, Switzerland, the company achieved $911 million in revenue over the last four reported quarters, with a strong, double-digit compound annual growth rate (CAGR) over the last three years.

"Luxoft and DXC are highly complementary, and our shared vision of digital transformation makes this strategic combination a great fit for both organizations -- as well as enormously beneficial for our clients," said Mike Lawrie, chairman, president and CEO, DXC Technology. "Luxoft has a proven track record and expertise in producing measurable business outcomes at-scale for global clients across key industries, including automotive and financial services. The addition of Luxoft accelerates DXC's growth strategy as we equip the company to meet the digital requirements of our clients today and in the future."

Together, Luxoft and DXC will have industry expertise that is both broad and deep. The combined company will be able to offer:
• End-to-end digital capabilities for the financial services industry, with a true global footprint;
• New services in insurance, where DXC is a recognized industry leader;
• Unmatched offerings for the automotive industry, combining Luxoft's knowledge and experience in car systems with DXC's capabilities in cloud and security for connected auto services; and
• Industry-leading services in healthcare and life sciences, bringing together DXC's experience in specialized systems with Luxoft's digital capabilities.

Luxoft has a highly skilled digital workforce of close to 13,000 people, the majority of whom have a master's degree or PhD, along with a deep industry background. The company built and operates a unique talent acquisition and management platform that consistently delivers on-time digital hiring, with an ability to leverage the platform across DXC to improve hiring efficiency.

Luxoft serves marquee clients in every region, with particular depth in European markets. In the automotive space, the combined company -- Luxoft plus DXC -- will serve more than 20 manufacturers and OEMs across North America, Europe and the Asia Pacific region. The combined company will serve half of the top financial institutions in the Americas and Europe.

Luxoft will maintain its brand and operate as "A DXC Technology Company," and will continue to be led by Dmitry Loschinin, the company's current president and CEO, who will report to Lawrie.
"Our success in recent years has been led by our talent and ability to design, develop and deliver truly innovative digital solutions tailored to client business needs," Loschinin said. "Aligning with DXC presents an exciting opportunity to unlock new value for our people, clients and partners. We will gain the scale, resources and market presence to better serve and compete, and to more rapidly realize our vision. As part of DXC, we will preserve Luxoft's differentiated capabilities and culture while driving growth for the combined company."

The acquisition of Luxoft will expand DXC's digital offerings portfolio, broaden its presence in high-growth verticals, enhance access to engineering talent globally and strengthen DXC's digital value proposition overall. The focus of the transaction will be on accelerating growth for DXC, with a focus on cross-selling digital services, expanding into new markets and scaling digital talent.

The combined company will benefit from Luxoft's differentiated solutions, platforms, delivery model and IP -- as well as industry-leading partnerships that complement DXC's own. Revenue synergies are expected to come from cross-selling Luxoft offerings across the DXC portfolio, while bringing DXC's expertise in IT modernization and digital integration to Luxoft clients.


---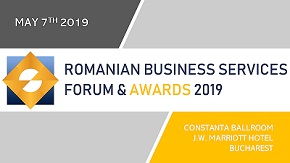 » Meet the winners of ROMANIAN BUSINESS ...
» Evolving from consumers of resources t...
» ROMANIAN OUTSOURCING AWARDS FOR EXCELL...
» Pepper Escu, the first humanoid robot ...
» Rebranding Creativity 2019, the first ...
» Volvo Cars and Uber present production...
» Preparing for the new future
» Berg Software Romania: Reasons to outs...
» George Rotariu, CEO Bitcoin Romania: B...
» George Didoiu: Meet the moderator of R...

Digital Transformation Conference to take place on June 19 at Bucharest

The Diplomat – Bucharest organizes Digital Transformation Conference to be held on 14 of June in Bucharest, at Hilton Hotel - Regina Maria Hall, starting 8:30 AM.
Read Full article »
L&D Conference by The Diplomat Bucharest took place on June 4th at Bucharest

The Diplomat-Bucharest organizes the Third Edition of its Learning & Development CONFERENCE on 4 June, 2019 at InterContinental Hotel Bucharest starting 09:00 am.
Read Full article »
Meet the winners of ROMANIAN BUSINESS SERVICES AWARDS, 2019 edition

ROMANIAN BUSINESS SERVICES FORUM & AWARDS 2019, in its fifth year, brrought on May 7, in Bucharest, a new concept event with engaging keynote sessions by industry leaders, interactive panel discussions, network
Read Full article »
Few hours away from to the long awaited CEO Leaders Debate, a premiere of Romanian Business Services Forum and Awards

We are a few hours away to the long awaited CEO Leaders Debate, a premiere of Romanian Business Services Forum and Awards on May 7.
Read Full article »
Colin C. Lovering: Meet the speakers at Romanian Business Services Forum & Awards 2019, on May 7

Colin C. Lovering has been living and working in Romania since 2009 when he arrived to offer consultancy and advice to organisations looking for growth and profitability and founded Achieve International.
Read Full article »