Study: Five out of 10 employers eye lay-offs

Almost 5 out of 10 employers would proceed to lay-offs, according to a survey conducted by the National Council for Small and Medium Sized Companies (CNIPMMR).

The managers say they cannot pay the minimum wages increased since January 1, whereas the managers of hotels and restaurants contemplate increasing the tariffs.

CNIPMMR's President Florin Jianu says the employers cannot go further because they don't have where to transfer the higher costs. If they increase the price by 5 per cent, they might be out of the market and then close down the business, he said, according to the national public television.

"As always, there's also the labour black market. Many of these companies are family companies, with the husband and wife working together, or some relatives. At a certain moment, they could decide to give up the labour contracts," fiscal adviser Adrian Benta says.

The hotels and restaurants managers say they cannot operate lay-offs due to the work force shortage. This industry lacks some 50,000 workers. However, the minimum wage increase would be borne by customers, due to higher tariffs. Six out of 10 employers in the survey say they will increase the prices of goods and services due to higher labour costs.



---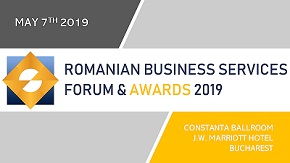 » Huawei opens a centre on cyber securit...
» ROMANIAN OUTSOURCING AWARDS FOR EXCELL...
» Romania ranks above EU average in gend...
» Bucharest, in the top of cities in Eur...
» Berg Software Romania: Reasons to outs...
» KPMG launches an application enabling ...
» Bogdan Pelinescu, president of ABSL: A...
» Meet the experts who will decide the w...
» ABSL GALA AWARDS celebrated its winner...
» Oracle reaches 4,200 employees and pla...

Colin C. Lovering: Meet the speakers at Romanian Business Services Forum & Awards 2019, on May 7

Colin C. Lovering has been living and working in Romania since 2009 when he arrived to offer consultancy and advice to organisations looking for growth and profitability and founded Achieve International.
Read Full article »
Antoniu Panait: Meet the speakers at Romanian Business Services Forum & Awards 2019, on May 7

Managing Director for VASTINT Romania since 2009, Antoniu Panait has an executive experience of more than 10 years, mainly in real estate.
Read Full article »
Andrei Voica: Meet the speakers at Romanian Business Services Forum & Awards 2019, on May 7

Andrei Voica, Director Project Management and Workplace Consultancy, Colliers International. Truly passionate about his work and always eager to add value to each project.
Read Full article »
Romulus Caralicea: Meet the speakers at Romanian Business Services Forum & Awards 2019, on May 7

Romulus is Wipro's Information Security, Risk & Compliance Lead for Europe. In his role he is managing internal audits and compliance activities for all clients and internal functions based on the corporate ISO
Read Full article »
George Didoiu: Meet the moderator of Romanian Business Services Forum 2019 CEO LEADERS DEBATE, on May 7

In his 15 years of real estate, George Didoiu advised on the relocation of top IT&C, finance-banking and consultancy companies, which total over 10,000 employees.
Read Full article »