Study: Five out of 10 employers eye lay-offs

Almost 5 out of 10 employers would proceed to lay-offs, according to a survey conducted by the National Council for Small and Medium Sized Companies (CNIPMMR).

The managers say they cannot pay the minimum wages increased since January 1, whereas the managers of hotels and restaurants contemplate increasing the tariffs.

CNIPMMR's President Florin Jianu says the employers cannot go further because they don't have where to transfer the higher costs. If they increase the price by 5 per cent, they might be out of the market and then close down the business, he said, according to the national public television.

"As always, there's also the labour black market. Many of these companies are family companies, with the husband and wife working together, or some relatives. At a certain moment, they could decide to give up the labour contracts," fiscal adviser Adrian Benta says.

The hotels and restaurants managers say they cannot operate lay-offs due to the work force shortage. This industry lacks some 50,000 workers. However, the minimum wage increase would be borne by customers, due to higher tariffs. Six out of 10 employers in the survey say they will increase the prices of goods and services due to higher labour costs.



---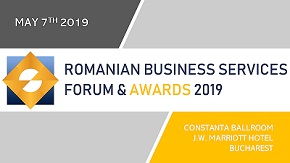 » Nomination are now open for Romanian B...
» PwC: The competitive advantages of Rom...
» Genpact, Luxoft and Oracle, top lessee...
» Philippe Beucher takes a new opportuni...
» CBRE: Romanian outsourcing industry ha...
» Romanian Outsourcing Summit 2016: Walk...
» Romanian Outsourcing Awards for Excell...
» The Outsourcing industry announces its...
» CrowdStrike opens a new center of inno...
» Tremend joins Mellanox in powering the...

Nomination are now open for Romanian Business Services Forum and Awards

Nominations have opened for the prestigious Romanian Business Services Forum & Awards. The 2019 awards will continue to recognize and reinforce the important contribution made by business services professionals
Read Full article »
Study: 89 per cent of finance teams yet to embrace Artificial Intelligence

Report by Association of International Certified Professional Accountants and Oracle shows that almost 90 per cent of finance teams do not have the skills to support digital transformation.
Read Full article »
Bucharest, in the top of cities in Europe with the largest number of experts in high-tech industry

Bucharest is among the top cities boasting the most experts in the high-tech innovative industry, with over 70,000 current employees, next to London, Dublin, Madrid or Budapest, reads a study conducted by CBRE
Read Full article »
CBRE study: Post-millennials, the happiest about their offices

During 2018, real estate consultancy company CBRE conducted the first study dedicated to work environment in office buildings in Bucharest. The respondents have been structured in four age segments, such as Z g
Read Full article »
Deloitte's Tech Trends 2019 report: Beyond the digital frontier

The recently released Deloitte's Tech Trends 2019: Beyond the digital frontier, as each Tech Trends report in the series conducted by the consultancy company, lobbies for embracing the increasing, often mind-b
Read Full article »