Manpower: Robots will be your colleagues not your replacement


Fears that robots will eliminate your job are unfounded with a growing number of employers planning to increase or maintain headcount as a result of automation, staffing company ManpowerGroup said in a survey published recently.


The "Humans Wanted: Robots Need You" report surveyed 19,000 employers in 44 countries and found 69 percent of firms were planning to maintain the size of their workforce while 18 percent wanted to hire more people as a result of automation. That was the highest result in three years.

The report went on to say that 24 percent of the firms that will invest in automation and digital technologies over the next two years plan to add jobs compared to 18 percent of those who are not automating. Just 9 percent of employers in the annual survey said automation would directly lead to job losses, while 4 percent did not know what the impact would be.

"More and more robots are being added to the workforce, but humans are too," said Jonas Prising, Chairman & CEO of ManpowerGroup. "Tech is here to stay and it's our responsibility as leaders to become Chief Learning Officers and work out how we integrate humans with machines."
More than 3 million industrial robots will be in use in factories around the world by 2020, according to the International Federation of Robotics.

The Manpower survey found that 84 percent of firms planned to help their workers learn new skills by 2020, compared to just 21 percent in 2011.The global talent shortage is at a 12-year-high, with many companies struggling to fill jobs, according to Manpower.

In Germany, where unemployment is at a record low, a shortage of talent was the top concern of small-to-mid-sized companies heading into 2019, according to a survey by the BVMW Mittelstand association.
The Manpower survey found IT skills are particularly in demand with 16 percent of companies expecting to hire staff in IT. In manufacturing and production, where industrial robots are increasingly doing routine tasks, firms expect to hire more people in customer-facing roles that require skills such as communication, leadership, negotiation and adaptability.

Employers in Singapore, Costa Rica, Guatemala and South Africa expected to add the most staff, while firms in Bulgaria, Hungary, Czech Republic, Norway, Slovakia and Romania predicted a decrease in headcount, the survey found.


---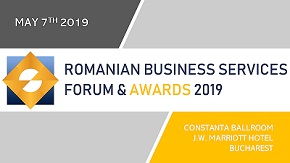 » Nomination are now open for Romanian B...
» PwC: The competitive advantages of Rom...
» Genpact, Luxoft and Oracle, top lessee...
» Philippe Beucher takes a new opportuni...
» CBRE: Romanian outsourcing industry ha...
» Romanian Outsourcing Summit 2016: Walk...
» Molson Coors started to grow its busin...
» Romanian Outsourcing Awards for Excell...
» The Outsourcing industry announces its...
» CrowdStrike opens a new center of inno...

Nomination are now open for Romanian Business Services Forum and Awards

Nominations have opened for the prestigious Romanian Business Services Forum & Awards. The 2019 awards will continue to recognize and reinforce the important contribution made by business services professionals
Read Full article »
Study: 89 per cent of finance teams yet to embrace Artificial Intelligence

Report by Association of International Certified Professional Accountants and Oracle shows that almost 90 per cent of finance teams do not have the skills to support digital transformation.
Read Full article »
Bucharest, in the top of cities in Europe with the largest number of experts in high-tech industry

Bucharest is among the top cities boasting the most experts in the high-tech innovative industry, with over 70,000 current employees, next to London, Dublin, Madrid or Budapest, reads a study conducted by CBRE
Read Full article »
CBRE study: Post-millennials, the happiest about their offices

During 2018, real estate consultancy company CBRE conducted the first study dedicated to work environment in office buildings in Bucharest. The respondents have been structured in four age segments, such as Z g
Read Full article »
Deloitte's Tech Trends 2019 report: Beyond the digital frontier

The recently released Deloitte's Tech Trends 2019: Beyond the digital frontier, as each Tech Trends report in the series conducted by the consultancy company, lobbies for embracing the increasing, often mind-b
Read Full article »