Manpower: Robots will be your colleagues not your replacement


Fears that robots will eliminate your job are unfounded with a growing number of employers planning to increase or maintain headcount as a result of automation, staffing company ManpowerGroup said in a survey published recently.


The "Humans Wanted: Robots Need You" report surveyed 19,000 employers in 44 countries and found 69 percent of firms were planning to maintain the size of their workforce while 18 percent wanted to hire more people as a result of automation. That was the highest result in three years.

The report went on to say that 24 percent of the firms that will invest in automation and digital technologies over the next two years plan to add jobs compared to 18 percent of those who are not automating. Just 9 percent of employers in the annual survey said automation would directly lead to job losses, while 4 percent did not know what the impact would be.

"More and more robots are being added to the workforce, but humans are too," said Jonas Prising, Chairman & CEO of ManpowerGroup. "Tech is here to stay and it's our responsibility as leaders to become Chief Learning Officers and work out how we integrate humans with machines."
More than 3 million industrial robots will be in use in factories around the world by 2020, according to the International Federation of Robotics.

The Manpower survey found that 84 percent of firms planned to help their workers learn new skills by 2020, compared to just 21 percent in 2011.The global talent shortage is at a 12-year-high, with many companies struggling to fill jobs, according to Manpower.

In Germany, where unemployment is at a record low, a shortage of talent was the top concern of small-to-mid-sized companies heading into 2019, according to a survey by the BVMW Mittelstand association.
The Manpower survey found IT skills are particularly in demand with 16 percent of companies expecting to hire staff in IT. In manufacturing and production, where industrial robots are increasingly doing routine tasks, firms expect to hire more people in customer-facing roles that require skills such as communication, leadership, negotiation and adaptability.

Employers in Singapore, Costa Rica, Guatemala and South Africa expected to add the most staff, while firms in Bulgaria, Hungary, Czech Republic, Norway, Slovakia and Romania predicted a decrease in headcount, the survey found.


---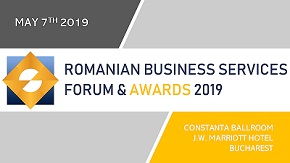 » Raiffeisen Bank Romania outsources onl...
» Horváth & Partners launches Steering ...
» Genpact, Luxoft and Oracle, top lessee...
» JLL: Total office space in Bucharest t...
» Oracle results pushed down by a strong...
» SSC in Romania. Who takes the lion's s...
» World-class HR organizations now spend...
» Romanian employers report the stronges...
» Eucom: Nine out of ten corporate Roman...
» DTZ: Office demand outside Bucharest t...

My HR Lab: Research of suitable candidates and giving feedback to rejected ones, the biggest challenge in HR

During June 2019, My HR Lab company run an online (social media platforms) survey "Challenges of the recruitment process" which enrolled over 100 professionals working in HR and recruitment in Romania.
Read Full article »
The local market needs more added-value and complex projects to be developed by the companies

The statement has been uttered within this year's Romanian Outsourcing and Shared Services Summit by Catalina Dodu, Country Manager at Atos, pointing to the local enablers that could enhance the innovation and
Read Full article »
The office market at a glance: The round for tenants is on

Data provided by CBRE show that the office spaces segment will continue to grow rapidly in 2019, and 15 new projects covering 304.000 sqm will be delivered. According to the real estate consultancy agency, curr
Read Full article »
People Empowering Business Forum 2019 to take place on October, 30 at Bucharest

Latest trends like demographic upheaval, globalization, digital technology, and changing social values and worker expectations, are disrupting business models and radically changing the workplace. These are req
Read Full article »
Addressing the mantra of cyber-security: Confidentiality, integrity and availability

The fast advancement of technology in all the aspects of everyday life, either personal or professional, and the emerging of AI (Artificial Intelligence) and ML (Machine Learning), not to mention cloud technolo
Read Full article »