Webhelp Romania aiming for EUR 10 million turnover growth, 500 new employees in 2019

Romania's outsourcing market, which recorded two-figure growth in a year, will attract new investments and generate new jobs in 2019, a year full of challenges. After a 2018 that repositioned Romania on the map for Webhelp, the largest European BPO provider, the company is aiming for a EUR 10 million growth in its turnover on the local market for 2019.

"If I had to describe 2018 in a single word, it would be "spectacular". Approaching a new business model allowed us to expand the local client portfolio by 10 percent and support a more efficient activity for two of our major clients by approaching client service from a 100 percent digital perspective," said Raluca Leonte, CEO at Webhelp Romania.

In 2018, the group's turnover grew by EUR 2 million, and Webhelp Romania will expand its operations in 2019.While in previous years the local branch made its turnover on organic growth only, in 2019 Webhelp Romania will also focus on acquiring a company to complete its range of services. Once the number of employees will grow by about 500, the turnover is also estimated to grow by EUR 10 million.

"We are aiming to provide our clients with a 360 offer, which can serve all departments, from marketing and financial to customer service and others. Thanks to their partnership with us, our clients can focus on developing their main activities, while together we can create opportunities for the communities in which we are active," Leonte added.

The Romanian branch will continue to provide complex, high added value, digital and multilingual services, such as Market Data Research and Invoice & Credit Control, while purely transactional activities will be gradually transferred to the group's low-cost destinations. Thus, the 100 FTEs activity launched for the largest low-cost airline in the world in Iasi will contribute to the consolidation of the centre in Moldova.

The main challenges in 2019 will be related to the economic and legislative framework.
"Last year's changes in fiscal legislation strongly influenced investors' perception of Romania's economic development for this year. If we add a high rate of staff turnover in sectors like ours, it is obvious that business models will go through major changes, so that they can sustain a growth in turnover without directly depending on the human resource, by turning to high added value services," the Webhelp Romania CEO added.

With over 100 universities providing qualified candidates, speaking at least one foreign language, with good technical skills, we have the advantage of being the second largest talent pool in the CEE. Retaining our employees and making them adhere to the values we represent is crucial to our business and it falls on us as industry leaders.


Webhelp Romania currently has 2,000 employees and offices in four cities (Bucharst, Ploiesti, Galati and Iasi) and has a strong selection basis for young talents, with representatives in most management structures in the group's 35 countries.Webhelp Romania's customer portfolio counts no less than 31 names, including: Samsung, Sephora, Bouygues Telecom, Orange, Vodafone, NN and Eurostar.

Webhelp Romania signed a lease extension for the Moldova Centre office building in Iasi, reaching a total area of 2,600 sqm. At the same time, the company consolidated its operations in Bucharest to Premium Plaza, reaching a total rented area of approximately 5000 square meters.

European leader
Eighteen years after its establishment, Webhelp has become a European leader and one of the top 10 BPO service providers with 140 operations sites in 35 countries and over 50,000 employees.

Keeping its accelerated development pace, the company has opened 11 new operations sites and acquired six new companies: IQ-to-Link, Runway, OEE, Technofix, Meddomed & Meded (Direct Medica) and Sellbytel

Webhelp provides customer service support for over 600 renowned brands, industry leaders in: telecom, retail, travel, fashion, automotive, logistics and e-commerce. Amazon, Easy Jet, Bouygues Telecom, Vodafone and Marc Jacobs are just a few of the group's clients.




---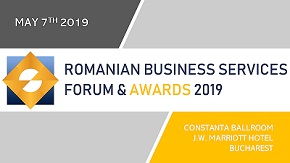 » Huawei opens a centre on cyber securit...
» ROMANIAN OUTSOURCING AWARDS FOR EXCELL...
» Romania ranks above EU average in gend...
» Bucharest, in the top of cities in Eur...
» Berg Software Romania: Reasons to outs...
» KPMG launches an application enabling ...
» Bogdan Pelinescu, president of ABSL: A...
» Meet the experts who will decide the w...
» ABSL GALA AWARDS celebrated its winner...
» Oracle reaches 4,200 employees and pla...

Colin C. Lovering: Meet the speakers at Romanian Business Services Forum & Awards 2019, on May 7

Colin C. Lovering has been living and working in Romania since 2009 when he arrived to offer consultancy and advice to organisations looking for growth and profitability and founded Achieve International.
Read Full article »
Antoniu Panait: Meet the speakers at Romanian Business Services Forum & Awards 2019, on May 7

Managing Director for VASTINT Romania since 2009, Antoniu Panait has an executive experience of more than 10 years, mainly in real estate.
Read Full article »
Andrei Voica: Meet the speakers at Romanian Business Services Forum & Awards 2019, on May 7

Andrei Voica, Director Project Management and Workplace Consultancy, Colliers International. Truly passionate about his work and always eager to add value to each project.
Read Full article »
Romulus Caralicea: Meet the speakers at Romanian Business Services Forum & Awards 2019, on May 7

Romulus is Wipro's Information Security, Risk & Compliance Lead for Europe. In his role he is managing internal audits and compliance activities for all clients and internal functions based on the corporate ISO
Read Full article »
George Didoiu: Meet the moderator of Romanian Business Services Forum 2019 CEO LEADERS DEBATE, on May 7

In his 15 years of real estate, George Didoiu advised on the relocation of top IT&C, finance-banking and consultancy companies, which total over 10,000 employees.
Read Full article »