Almost 19,000 entrepreneurs have already applied for Start-up Nation

The Start-up Nation 2018-2019 program has been accepting business projects for almost a month now, even though the state budget for this year has not yet been passed.

Business plan submissions started on December 27 will end on February 12, and so far 18,767 files have already been submitted, according to startupcafe.ro. Entrepreneurs who want to open a business can obtain non-refundable funds up to 200,000 lei (EUR 43,000) through the state program.

In the 2017 edition, the registration period was opened on June 16 and the number of applicants was over 19,200, which means that this year the number will be higher, since many applicants are waiting for the last day of registrations. The difference this year is that entrepreneurs from Cluj, Bucharest and Ilfov will receive 15 fewer points than the others. In the 2017 edition, most of the participants came from these regions.

Another difference from the previous edition is that in the current edition the program does not have an allocated budget yet, because the 2019 state budget has not yet been adopted. Start-Up Nation 2018-2019 was opened between Christmas and New Year on commitment credits allocated to the state budget in 2018. In order to provide payments in 2019, however, it is necessary to allocate budgetary (payment) appropriations through the budget state budget for 2019.

In the governance program, it is expected that the second edition of the Start-Up Nation program would benefit from a total budget of RON 2 billion, of which a maximum of 10,000 micro-enterprises and small and medium-sized enterprises would be funded in non-agricultural sectors with RON 200,000 each.

---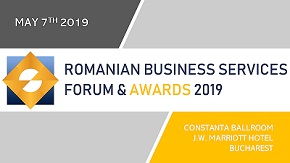 » Nomination are now open for Romanian B...
» PwC: The competitive advantages of Rom...
» Genpact, Luxoft and Oracle, top lessee...
» Philippe Beucher takes a new opportuni...
» CBRE: Romanian outsourcing industry ha...
» Romanian Outsourcing Summit 2016: Walk...
» Romanian Outsourcing Awards for Excell...
» The Outsourcing industry announces its...
» CrowdStrike opens a new center of inno...
» Tremend joins Mellanox in powering the...

Nomination are now open for Romanian Business Services Forum and Awards

Nominations have opened for the prestigious Romanian Business Services Forum & Awards. The 2019 awards will continue to recognize and reinforce the important contribution made by business services professionals
Read Full article »
Study: 89 per cent of finance teams yet to embrace Artificial Intelligence

Report by Association of International Certified Professional Accountants and Oracle shows that almost 90 per cent of finance teams do not have the skills to support digital transformation.
Read Full article »
Bucharest, in the top of cities in Europe with the largest number of experts in high-tech industry

Bucharest is among the top cities boasting the most experts in the high-tech innovative industry, with over 70,000 current employees, next to London, Dublin, Madrid or Budapest, reads a study conducted by CBRE
Read Full article »
CBRE study: Post-millennials, the happiest about their offices

During 2018, real estate consultancy company CBRE conducted the first study dedicated to work environment in office buildings in Bucharest. The respondents have been structured in four age segments, such as Z g
Read Full article »
Deloitte's Tech Trends 2019 report: Beyond the digital frontier

The recently released Deloitte's Tech Trends 2019: Beyond the digital frontier, as each Tech Trends report in the series conducted by the consultancy company, lobbies for embracing the increasing, often mind-b
Read Full article »