Almost 19,000 entrepreneurs have already applied for Start-up Nation

The Start-up Nation 2018-2019 program has been accepting business projects for almost a month now, even though the state budget for this year has not yet been passed.

Business plan submissions started on December 27 will end on February 12, and so far 18,767 files have already been submitted, according to startupcafe.ro. Entrepreneurs who want to open a business can obtain non-refundable funds up to 200,000 lei (EUR 43,000) through the state program.

In the 2017 edition, the registration period was opened on June 16 and the number of applicants was over 19,200, which means that this year the number will be higher, since many applicants are waiting for the last day of registrations. The difference this year is that entrepreneurs from Cluj, Bucharest and Ilfov will receive 15 fewer points than the others. In the 2017 edition, most of the participants came from these regions.

Another difference from the previous edition is that in the current edition the program does not have an allocated budget yet, because the 2019 state budget has not yet been adopted. Start-Up Nation 2018-2019 was opened between Christmas and New Year on commitment credits allocated to the state budget in 2018. In order to provide payments in 2019, however, it is necessary to allocate budgetary (payment) appropriations through the budget state budget for 2019.

In the governance program, it is expected that the second edition of the Start-Up Nation program would benefit from a total budget of RON 2 billion, of which a maximum of 10,000 micro-enterprises and small and medium-sized enterprises would be funded in non-agricultural sectors with RON 200,000 each.

---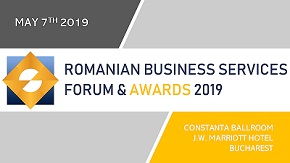 » Huawei opens a centre on cyber securit...
» ROMANIAN OUTSOURCING AWARDS FOR EXCELL...
» Romania ranks above EU average in gend...
» Bucharest, in the top of cities in Eur...
» Berg Software Romania: Reasons to outs...
» KPMG launches an application enabling ...
» Bogdan Pelinescu, president of ABSL: A...
» Meet the experts who will decide the w...
» ABSL GALA AWARDS celebrated its winner...
» Oracle reaches 4,200 employees and pla...

Colin C. Lovering: Meet the speakers at Romanian Business Services Forum & Awards 2019, on May 7

Colin C. Lovering has been living and working in Romania since 2009 when he arrived to offer consultancy and advice to organisations looking for growth and profitability and founded Achieve International.
Read Full article »
Antoniu Panait: Meet the speakers at Romanian Business Services Forum & Awards 2019, on May 7

Managing Director for VASTINT Romania since 2009, Antoniu Panait has an executive experience of more than 10 years, mainly in real estate.
Read Full article »
Andrei Voica: Meet the speakers at Romanian Business Services Forum & Awards 2019, on May 7

Andrei Voica, Director Project Management and Workplace Consultancy, Colliers International. Truly passionate about his work and always eager to add value to each project.
Read Full article »
Romulus Caralicea: Meet the speakers at Romanian Business Services Forum & Awards 2019, on May 7

Romulus is Wipro's Information Security, Risk & Compliance Lead for Europe. In his role he is managing internal audits and compliance activities for all clients and internal functions based on the corporate ISO
Read Full article »
George Didoiu: Meet the moderator of Romanian Business Services Forum 2019 CEO LEADERS DEBATE, on May 7

In his 15 years of real estate, George Didoiu advised on the relocation of top IT&C, finance-banking and consultancy companies, which total over 10,000 employees.
Read Full article »