CBRE study: Post-millennials, the happiest about their offices

During 2018, real estate consultancy company CBRE conducted the first study dedicated to work environment in office buildings in Bucharest. The respondents have been structured in four age segments, such as Z generation: 18-24 years, Y generation: 25-34 years, X generation with 35-49 years, respectively senior generation of 50-64 years' old representatives.

The study focused on satisfaction indicators and criteria relevant to people of distinct age groups who work in different areas of the city and in extremely diverse areas of activity. Contrary to popular perceptions in the business world that post-millenarians consider themselves to be a generation with difficulty in integrating into work, one of the key findings of the study is that the most satisfied employees belong exactly to to the very young generation (18-24 years).

The study showed that 82 per cent of respondents of Z generation (18-24 years), also called the generation post-millennials, were satisfied and very pleased with the location and the conditions offered in the office buildings they are working in - 55 per cent said they were relatively satisfied and 27 per cent were very satisfied. The generation of seniors (50-64 years old) is satisfied in a proportion of 73 per cent, of which 35 per cent are quite satisfied and 38 per cent are extremely satisfied. The category of people aged 35 to 49 (generation X) ranked third, with 63 per cent of people who are satisfied with the conditions at work. Of these, 39 per cent are relatively satisfied and 24 per cent very satisfied.

"The improvement of work environment has a decisive impact on the quality of new office projects, but also on the satisfaction and productivity of employees. It is extremely important for us to contribute to the evolution of the office space market, which will lead to professional progress and business development, all of which mean economic growth. Throughout this process, attracting and retaining people has a major role, and research on the scale of the CBRE has a special value in this respect, "said Mihai Păduroiu, Head of Advisory & Transaction Services of CBRE Romania.

The research sought employees' perception of both easy access to the car or public transport and other factors such as shops, restaurants, pharmacies or ATMs in and around the building, as well as available parking spaces, access to a gym or the possibility of cycling at work. Other criteria for the selection of the job analyzed in the study were: the existence of showers, locker rooms and spaces for relaxation and meditation, the quality of office amneties or material, such as furniture, etc.

Among the findings revealed by CBRE research is that over 50 per cent of each age group spends between 30 and 60 minutes on their way to work. With regard to the type of workspace preferred, young generations opt for individual spaces: 43 per cent of young people aged 18-24 and 51 per cent of the category 25-34 years, while 56 per cent of the X generation respondents declared their preference for departmental divisions, as with seniors, with 50 per cent of options.

Among the complaints mentioned by the majority of respondents are: poor heating, ventilation and air conditioning (40 per cent), insufficient natural light (37 per cent) and too crowded space and too little parking space (both 36 per cent). The balance between personal life and time is valued differently, depending on the age category: the 68 per cent generation thinks that time for personal life is an extremely important criterion in choosing a job, followed by Y generation by 47 per cent, X generation by 51 per cent and seniors by 35 per cent.

---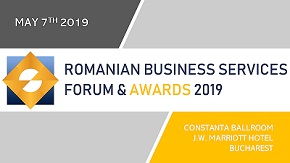 » Raiffeisen Bank Romania outsources onl...
» Horváth & Partners launches Steering ...
» Genpact, Luxoft and Oracle, top lessee...
» JLL: Total office space in Bucharest t...
» Oracle results pushed down by a strong...
» SSC in Romania. Who takes the lion's s...
» World-class HR organizations now spend...
» Romanian employers report the stronges...
» Eucom: Nine out of ten corporate Roman...
» DTZ: Office demand outside Bucharest t...

My HR Lab: Research of suitable candidates and giving feedback to rejected ones, the biggest challenge in HR

During June 2019, My HR Lab company run an online (social media platforms) survey "Challenges of the recruitment process" which enrolled over 100 professionals working in HR and recruitment in Romania.
Read Full article »
The local market needs more added-value and complex projects to be developed by the companies

The statement has been uttered within this year's Romanian Outsourcing and Shared Services Summit by Catalina Dodu, Country Manager at Atos, pointing to the local enablers that could enhance the innovation and
Read Full article »
The office market at a glance: The round for tenants is on

Data provided by CBRE show that the office spaces segment will continue to grow rapidly in 2019, and 15 new projects covering 304.000 sqm will be delivered. According to the real estate consultancy agency, curr
Read Full article »
People Empowering Business Forum 2019 to take place on October, 30 at Bucharest

Latest trends like demographic upheaval, globalization, digital technology, and changing social values and worker expectations, are disrupting business models and radically changing the workplace. These are req
Read Full article »
Addressing the mantra of cyber-security: Confidentiality, integrity and availability

The fast advancement of technology in all the aspects of everyday life, either personal or professional, and the emerging of AI (Artificial Intelligence) and ML (Machine Learning), not to mention cloud technolo
Read Full article »