Tremend joins Mellanox in powering the majority of Top 500 supercomputers

Tremend - one of the fastest growing software companies in Romania - has signed an agreement with Mellanox Technologies, a leading supplier of end-to-end connectivity solutions for servers and storage, with headquarters in California and Israel.

Within this agreement, Tremend will provide chip design and verification services, being one of the few providers in Romania that have the technical capacity to deliver in this highly specialized area. Tremend engineers will work side by side with Mellanox experts to build the next generation of the networking processors and switches that power the majority of Top 500 supercomputers and 90% of the Cloud HyperScale companies.

Bogdan Nitulescu, CTO and Partner, Tremend, said: "It's a partnership that strengthens our business with the semiconductor industry and connects us to an avant-garde segment of software and hardware services. We believe in the growth potential on the local market, capitalizing on our main strengths - highly educated human resources, a talented team and very good cultural compatibility with our partners."

Tremend will open up to 50 positions within its team in the next two years, offering the opportunity for computer science, mathematics or electronics graduates to specialize in the cutting edge field of chip design and verification for the fastest and most advanced networking products on the market.
Ido Bukspan, VP of Chip Design, Mellanox Technologies said – "We have a great momentum in developing our cutting edge devices and our strategy is designed to keep it going strong. We're talking here about state-of-the-art, best in the world devices in this specific category. Starting a collaboration with Tremend is further proof to our operational efficiency and we're confident that we found in Tremend an excellent partner and a talent pool able to drive growth through innovation in our market-leading products."

The highly skilled engineers already joining the team have strong backgrounds in electronics and computer science, combining software and programming skills with the knowledge of hardware and digital circuits. The core skills needed will be in the domains of high-performance networking, VLSI design and verification, technologies used in the backbone of the Internet and cloud infrastructure.



---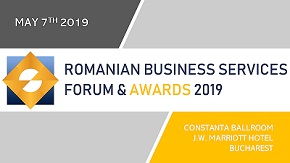 » Huawei opens a centre on cyber securit...
» ROMANIAN OUTSOURCING AWARDS FOR EXCELL...
» Romania ranks above EU average in gend...
» Bucharest, in the top of cities in Eur...
» Berg Software Romania: Reasons to outs...
» KPMG launches an application enabling ...
» Bogdan Pelinescu, president of ABSL: A...
» Meet the experts who will decide the w...
» ABSL GALA AWARDS celebrated its winner...
» Oracle reaches 4,200 employees and pla...

Colin C. Lovering: Meet the speakers at Romanian Business Services Forum & Awards 2019, on May 7

Colin C. Lovering has been living and working in Romania since 2009 when he arrived to offer consultancy and advice to organisations looking for growth and profitability and founded Achieve International.
Read Full article »
Antoniu Panait: Meet the speakers at Romanian Business Services Forum & Awards 2019, on May 7

Managing Director for VASTINT Romania since 2009, Antoniu Panait has an executive experience of more than 10 years, mainly in real estate.
Read Full article »
Andrei Voica: Meet the speakers at Romanian Business Services Forum & Awards 2019, on May 7

Andrei Voica, Director Project Management and Workplace Consultancy, Colliers International. Truly passionate about his work and always eager to add value to each project.
Read Full article »
Romulus Caralicea: Meet the speakers at Romanian Business Services Forum & Awards 2019, on May 7

Romulus is Wipro's Information Security, Risk & Compliance Lead for Europe. In his role he is managing internal audits and compliance activities for all clients and internal functions based on the corporate ISO
Read Full article »
George Didoiu: Meet the moderator of Romanian Business Services Forum 2019 CEO LEADERS DEBATE, on May 7

In his 15 years of real estate, George Didoiu advised on the relocation of top IT&C, finance-banking and consultancy companies, which total over 10,000 employees.
Read Full article »