Capgemini: Investing in people is the right move in 2019

On the global platform of Capgemini company, the company's specialist in business development with strategic clients, Koushik Chatterjee endeavored in offering several predictions to rule the BPO services market in 2019.

Koushik Chatterjee is responsible at Capgemini for developing long-term relationships with key strategic clients. As a passionate advocate for "going digital" and leveraging technology in business services strategies, Koushik has helped multiple clients in their journey to global managed services.

"In recent years, the fad of predictions has swamped social media, video channels, news portals, and analyst/advisor websites. Although these predictions can sometimes be over-exaggerated, inexorable trends towards the constant and extreme speed of change have become much stronger.To understand what 2019 is set to bring, let me first reflect on 2018," Koushik Chatterjee says.

According to him, "2018 has been one of those rollercoaster years for the BPO and ITO industries. The increasing threat of global political instability and the return of protectionist sentiment in western economies, combined with the accelerated pace of technological innovation, continue to disrupt the industry."

The opinion quotes:
"While navigating through this volatile marketplace, business services companies recognize that digital transformation, intelligent automation, innovation, and customer centricity are fundamentally altering the nature of the industry:
• The rapidly changing nature of competition – global, multi-service (IT and business services) companies have had to compete with more competition from boutique digital transformation and consulting companies, the Big 4 advisory firms, and in-house shared services and IT organizations.
• Disruption in the global delivery network – the tried and trusted global delivery model has come under severe strain as clients demand more from digital and labor arbitrage propositions. Services companies face a difficult choice between cannibalizing revenue and retaining engagements vs. losing the engagement to in-house competition.
• Business services and digital are merging – pure-play BPO firms raced to acquire more digital and automation capabilities, while multi-service companies have reorganized themselves to invest more in higher value digital capabilities."

Trends and predictions for 2019

In 2019, the manager expects these trends to become more pronounced, while we will also see other trends emerge. That said, here are my top seven predictions for BPO in 2019:
• Legacy labor-centric BPO delivery models will come under huge threat from robotic automation and AI – with digital driving new opportunities for both small and larger firms, the traditional global delivery-based cost arbitrage model will come under huge pressure. This will manifest itself in increasing demand for more for less from existing customers. Most large organizations with mature shared services or 2nd or 3rd-generation BPO relationships are now looking beyond cost arbitrage for the next "silver bullet" to drive value impact from their operations. Agile firms with a better grasp of "as-a service" models and better integration between process and digital capabilities will be better placed to capitalize on these new opportunities.
• Annuity-driven certainty will continue to be replaced by project-driven contracts – there will be a slowdown in demand for traditional annuity-driven long-tenured BPO contracts as large organizations look at doing more digital transformation and process automation projects in house or with IT partners. Contract renegotiations will be brutal with customers expecting disruptive cost savings and value through more project-driven work.
• Focus on real business solutions rather than people elimination – as customers demand more for less, service providers will be under more pressure to reduce existing engagement teams through implementing digital transformation projects. Smart providers will start reorienting their workforce towards helping clients find more value, with increased opportunities for applying the human workforce to more complex and judgment-based tasks.
• Smaller deal sizes and shorter contract tenures – in an environment of rapid technological change, both customers and first-generation outsourcers won't be prepared to lock themselves into long-tenure contracts. This will result in more 2–4 year contracts, as opposed 5–7 year contracts seen in the past.
• Increased importance of the consulting/advisory front end – as service providers continue to transform their labor-centric business models into digital and automation-based ones, the success of this digital business will be driven by the front end. We will see increased investment into the front end, with service providers working with clients to redesign business models around the new opportunities that digital is creating and enabling. This will either be driven by organic growth or enabled by acquisitions, with service providers acquiring and investing in firms that bridge the design, tech, business, and reimagination gap.
• A multi-tower, multi-disciplinary approach will win – the portfolio view of the whole solution across business, IT services, and consulting, etc., will be essential in the new world. Service providers will need to leverage their entire breadth and depth of digital, process, and operations capabilities. Multi-disciplinary teams around process expertise, industry knowledge, data science, consulting, and technology will need to come together to articulate customer and industry-specific insights. We will see more service provider organizations aggregating and integrating these capabilities to create new solutions for clients.
• No space to breathe – we are entering a period of relentless change and innovation. Continuous and relentless change is the new normal. There is no space to breathe. We have a whole new wave of disruptive technologies – such as blockchain, additive manufacturing, and artificial intelligence (AI) – that are fundamentally disruptive and continue to accelerate the pace of change.

According to Capgemini's manager, people are the true capital of the companies. "As the industry goes through its biggest shakeup in decades, there will be both opportunities and threats. Service providers that focus on soft people skills and human capabilities to redefine and create value for their clients will succeed in the long run. They will be able to trump the shakeup by being quicker to adapt to changes in delivery models, sales approach, and workforce re-orientation, and generate more value for their clients and shareholders.

Customers need new and enhanced digital experiences. However, service providers won't be able to deliver to leverage new technologies and new ways of working to deliver these experiences until the artificial walls inside organizations are pulled down and mindsets change."





---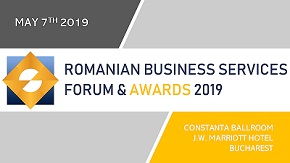 » ASE's HR Master – helping students i...
» Digital Transformation Conference to t...
» Romulus Caralicea: Meet the speakers a...
» Meet the winners of ROMANIAN BUSINESS ...
» Zitec launches its 1 million Euro Mirr...
» Deloitte Romania opens application for...
» Genpact's COO: Staying ahead of the cu...
» Marian V. Popa: Meet the speakers at R...
» Randstad Employer Branding 2019: Salar...
» Antoniu Panait: Meet the speakers at R...

Digital Transformation Conference to take place on June 19 at Bucharest

The Diplomat – Bucharest organizes Digital Transformation Conference to be held on 14 of June in Bucharest, at Hilton Hotel - Regina Maria Hall, starting 8:30 AM.
Read Full article »
L&D Conference by The Diplomat Bucharest to take place on June 4th at Bucharest

The Diplomat-Bucharest organizes the Third Edition of its Learning & Development CONFERENCE on 4 June, 2019 at InterContinental Hotel Bucharest starting 09:00 am.
Read Full article »
Meet the winners of ROMANIAN BUSINESS SERVICES AWARDS, 2019 edition

ROMANIAN BUSINESS SERVICES FORUM & AWARDS 2019, in its fifth year, brrought on May 7, in Bucharest, a new concept event with engaging keynote sessions by industry leaders, interactive panel discussions, network
Read Full article »
Few hours away from to the long awaited CEO Leaders Debate, a premiere of Romanian Business Services Forum and Awards

We are a few hours away to the long awaited CEO Leaders Debate, a premiere of Romanian Business Services Forum and Awards on May 7.
Read Full article »
Colin C. Lovering: Meet the speakers at Romanian Business Services Forum & Awards 2019, on May 7

Colin C. Lovering has been living and working in Romania since 2009 when he arrived to offer consultancy and advice to organisations looking for growth and profitability and founded Achieve International.
Read Full article »