Deloitte Romania appointed Vladimir Aninoiu to lead the technology team within the Consulting practice

Deloitte Romania appoints Vladimir Aninoiu as Director in charge of the technology team within the Management Consulting practice, reporting to Dinu Bumbacea, Consulting Partner-in-charge.

With a career spanning over two decades in management positions for Romania and for other European areas, Vladimir Aninoiu will lead a team of consultants specialized in technology, which addresses current challenges specific to the fourth industrial revolution transformation.

For most of his career, Vladimir Aninoiu has held top management positions with leading technology companies. Before joining Deloitte Romania, he was the CEO & President of the Management Board of Asseco for South Eastern Europe. Prior to that, he worked for IBM for over 15 years, as Country General Manager, then as Director Developing Markets and Director Sales Large Enterprise for IBM CEE. He holds an MBA from the Open University in UK and has graduated from the Electronics and Telecommunications Faculty in Bucharest.

"I am proud to welcome on board Vladimir, whose rich knowledge of technology and experience in digital business will be great assets to our clients. With his contribution, we enhance the competencies of our Consulting practice and our ability to provide the widest range of integrated solutions, from idea to implementation, while living to our global reputation as leader in technology consulting," said Alexandru Reff, Country Managing Partner, Deloitte Romania and Moldova.

Deloitte Romania's Consulting practice has strengthened over the last years with competencies in Robotic Process Automation (RPA) and data analytics.

Also, Deloitte operates the European Regional Delivery Center in Bucharest, which employs over 400 IT experts and supplies services based on SAP, analytics/information management (AIM) and digital technologies to clients in Romania and in major European markets.

Globally, Deloitte has been recognized for several years as the leader in technology consulting and a prominent advisor in digital transformation, including through partnerships with Apple, Facebook, Amazon, SAP, Salesforce and other technology giants.

Deloitte provides worldwide audit, consulting, legal, financial advisory, risk advisory, tax and related services to public and private clients spanning multiple industries. Deloitte serves four out of five Fortune Global 500 companies through a globally connected network of member firms in more than 150 countries and territories bringing world-class capabilities, insights, and high-quality service to address clients' most complex business challenges. Deloitte's goal is to make an impact that matters through its approximately 286,000 professionals.



---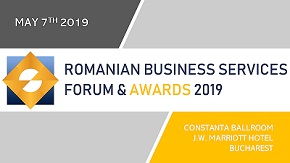 » ASE's HR Master – helping students i...
» Digital Transformation Conference to t...
» Romulus Caralicea: Meet the speakers a...
» Meet the winners of ROMANIAN BUSINESS ...
» Zitec launches its 1 million Euro Mirr...
» Deloitte Romania opens application for...
» Genpact's COO: Staying ahead of the cu...
» Marian V. Popa: Meet the speakers at R...
» Randstad Employer Branding 2019: Salar...
» Antoniu Panait: Meet the speakers at R...

Digital Transformation Conference to take place on June 19 at Bucharest

The Diplomat – Bucharest organizes Digital Transformation Conference to be held on 14 of June in Bucharest, at Hilton Hotel - Regina Maria Hall, starting 8:30 AM.
Read Full article »
L&D Conference by The Diplomat Bucharest to take place on June 4th at Bucharest

The Diplomat-Bucharest organizes the Third Edition of its Learning & Development CONFERENCE on 4 June, 2019 at InterContinental Hotel Bucharest starting 09:00 am.
Read Full article »
Meet the winners of ROMANIAN BUSINESS SERVICES AWARDS, 2019 edition

ROMANIAN BUSINESS SERVICES FORUM & AWARDS 2019, in its fifth year, brrought on May 7, in Bucharest, a new concept event with engaging keynote sessions by industry leaders, interactive panel discussions, network
Read Full article »
Few hours away from to the long awaited CEO Leaders Debate, a premiere of Romanian Business Services Forum and Awards

We are a few hours away to the long awaited CEO Leaders Debate, a premiere of Romanian Business Services Forum and Awards on May 7.
Read Full article »
Colin C. Lovering: Meet the speakers at Romanian Business Services Forum & Awards 2019, on May 7

Colin C. Lovering has been living and working in Romania since 2009 when he arrived to offer consultancy and advice to organisations looking for growth and profitability and founded Achieve International.
Read Full article »