Infosys officially opens new digital innovation center in Romania

Infosys a global leader in next-generation digital services and consulting, announced this week it will be opening a new Digital Innovation Center in Bucharest, Romania at an event attended by local government officials and university representatives.

The center will focus on developing offerings for clients based on cutting-edge digital technologies including Cloud, Big Data, Artificial Intelligence and Machine Learning.

Infosys will invest in training programs for both its current employees and new hires. These training programs will focus on several key competencies including user experience, Cloud, Big Data, digital offerings, core technology skills and computer science skills.

The company has also announced that it is entering into an agreement with the University of Bucharest and the University Politehnica Bucharest to form a strategic partnership for technology innovation and Romanian workforce development; including joint training courses, scholarships and research. The training programs for Romania will leverage the learnings and best practices the company has developed through decades of experience running the Infosys Global Education Center, one of the world's largest corporate universities, located in Mysore, India.

Infosys also plans to open a new Cyber Defence Center in Bucharest this summer. The Center will provide end-to-end 24/7 cybersecurity services to help European and global clients progress on their digital transformation journey. Services include cyber forensics, ethical hacking, security analytics, threat detection and response. The center in Bucharest will be vital to delivering services across the European region, given GDPR and other country-specific data regulation requirements.

Currently Infosys, which was recently recognised as a Top Employer in Europe, has operations across 15 European countries, employing more than 12,000 people. The company works with both European and global clients in a range of industries, including financial services, healthcare, life sciences, business process management, utilities, manufacturing and retail.

Ravi Kumar S., President, Infosys, said, "Our Digital Innovation Center in Bucharest marks an important step forward for Infosys as it further expands its presence across Europe, improving our ability to serve both our regional and global clients. By partnering with key local academic institutions, we are creating organic talent pools in Romania that do not exist in the market today. By training and developing a highly skilled workforce in Romania, we can help close the digital skills gap in the region and contribute to the Romanian and European economy."

Mircea Dumitru, Rector of The University of Bucharest, said, "Europe is a hotbed for innovation, and the next generation of workforce is keen to develop its skills and knowledge in the digital age, through the best training and hands-on experience. We've partnered with Infosys so that young Romanian specialists can work and train with the best-in-class Infosys experts at the new center to become more skilled and better prepared to help shape Europe's digital future."

Ana Birchall, Vice Prime Minister of Romania, said, "IT services is a huge growing industry in Romania and this new Digital Innovation Center offers a great opportunity for students and professionals alike to develop their skills, find new career prospects and enhance cutting-edge digital technologies across industries in Romania and Europe. From an economic perspective, I would like to underscore the rapid-paced growth patterns of both our countries, with India being the fastest growing economy in the world and Romania mirroring at an EU level. In this positive context we should take full stock of all opportunities to further consolidate the extended partnership between Romania and India.

Moreover, the economic growth of our country in the last couple of years represents an open invitation to pre-eminent investors and companies like Infosys to bring added value and open new economic opportunities."





---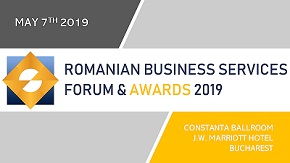 » ASE's HR Master – helping students i...
» Digital Transformation Conference to t...
» Romulus Caralicea: Meet the speakers a...
» Meet the winners of ROMANIAN BUSINESS ...
» Zitec launches its 1 million Euro Mirr...
» Deloitte Romania opens application for...
» Genpact's COO: Staying ahead of the cu...
» Marian V. Popa: Meet the speakers at R...
» Randstad Employer Branding 2019: Salar...
» Antoniu Panait: Meet the speakers at R...

Digital Transformation Conference to take place on June 19 at Bucharest

The Diplomat – Bucharest organizes Digital Transformation Conference to be held on 14 of June in Bucharest, at Hilton Hotel - Regina Maria Hall, starting 8:30 AM.
Read Full article »
L&D Conference by The Diplomat Bucharest to take place on June 4th at Bucharest

The Diplomat-Bucharest organizes the Third Edition of its Learning & Development CONFERENCE on 4 June, 2019 at InterContinental Hotel Bucharest starting 09:00 am.
Read Full article »
Meet the winners of ROMANIAN BUSINESS SERVICES AWARDS, 2019 edition

ROMANIAN BUSINESS SERVICES FORUM & AWARDS 2019, in its fifth year, brrought on May 7, in Bucharest, a new concept event with engaging keynote sessions by industry leaders, interactive panel discussions, network
Read Full article »
Few hours away from to the long awaited CEO Leaders Debate, a premiere of Romanian Business Services Forum and Awards

We are a few hours away to the long awaited CEO Leaders Debate, a premiere of Romanian Business Services Forum and Awards on May 7.
Read Full article »
Colin C. Lovering: Meet the speakers at Romanian Business Services Forum & Awards 2019, on May 7

Colin C. Lovering has been living and working in Romania since 2009 when he arrived to offer consultancy and advice to organisations looking for growth and profitability and founded Achieve International.
Read Full article »