ABSL and KPMG report shows that the outsourcing in Romania has a potential of 300.000 worth workforce

Recently, Business Service Leaders Association (ABSL) issued its yearly salary and benefits report referring to the outsourcing industry in Romania. The study has been conducted in partnership with KPMG examines seven processes / types of items in the industry as follows: Project Management / Process, Finance and Accounting, Human Resources, Customer Service, Services Purchasing and Procurement, Software Development (IT) and Top Ma

The report has been developed among member companies of ABSL and surveyed 19 companies. According to the findings in the report, the outsourcing market developed in Romania employs 125,000 professionals and generates 4 million Euro worth market but it potential reaches 300.000 people. The report cites several professional segments and the referring wages: For instance, for project management specialists, the monthly salary can start at roughly 5000 lei and goes up to 20.000 lei, according to each project and expertise. For professionals working in financial accounting or Customer Service (Customer Services) entry salary can start at 3300 lei gross salary per month, and for those working in the Supply Chain (Supply) from 3000 lei gross salary / month.

"Our industry is one of the most dynamic in Romania, with the industry potential of 300,000 employees, now employing about 125,000 people in the industry. Outsourcing industry enables very fast personal development, using multidisciplinary trainings in which companies are helping employees to obtain the necessary skills," explains Bogdan Pelinescu, president of ABSL.

According to the study, most companies offer language bonuses. French, German, Italian and Spanish are the languages most sought after by employers and are paid bonuses ranging between RON 270 and RON 3,000 gross income per month. Those who speak less spoken languages can receive bonuses up to RON 3,600 per month, in addition to the salary.

Another benefit to employees is additional days, besides mandatory ones, which may vary between one and six days a year. Other company benefits include meal vouchers, private medical subscriptions and the option of having flexible working hours. In 2018, 33 percent of employees provided Customer Management services, 25 percent IT services, and 23 percent worked in Financial Accounting.

According to the same study, the average age of the workforce is between 26 and 35 years, with women accounting for 61 percent of the industry's employees. According to the survey, on average, an employee is in the company between 1 and 5 years. Most people working in the industry have at least one university degree and 24 percent are graduates of Master or Doctorate.

According to the ABSL study, 76 percent of surveyed companies use simple automation (Robotic Process Automation) in company activities. Adding artificial intelligence and cognitive automation, software robots are able to perform repetitive and predictable actions without the need for employee intervention (automatic mails, virtual agent, Interactive voice response). 21 percent of the interviewed companies use cognitive automation.

Most companies, 57 percent, internally develop these simple automation solutions. 25 percent of the interviewed companies developed internally centers of excellence for the development of automation processes.

"Automating certain activities means enabling employees to engage in activities where they can better express their skills and creativity. The team has more time to devote themselves to projects and initiatives that bring high business value, and so people will have more satisfaction than a trivial and repetitive activity. At the same time, robots will need to be coordinated, becoming more and more "assistants" for employees, helping them to do their work more efficiently, and in many cases ensuring ongoing processing for standard activities," said Bogdan Barbu, ABSL vice president.

ABSL Romania and the Academy of Economic Studies in Bucharest launched in 2016 the Business Services Masters program, organized by the Faculty of Accounting and Management Information Technology, which is available for 50 students every year.

"In 2018 he graduated the first generation of students in the Business Services Masters program. The fact that 98 per cent of them have already engaged in companies in the industry at the end of their studies, confirms how important it is to continue the investment in the education of the next generation of specialists," says Catalin Iorgulescu, ABSL vice president.





---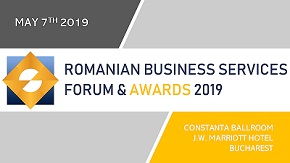 » Huawei opens a centre on cyber securit...
» ROMANIAN OUTSOURCING AWARDS FOR EXCELL...
» Romania ranks above EU average in gend...
» Bucharest, in the top of cities in Eur...
» Berg Software Romania: Reasons to outs...
» KPMG launches an application enabling ...
» Bogdan Pelinescu, president of ABSL: A...
» Meet the experts who will decide the w...
» ABSL GALA AWARDS celebrated its winner...
» Oracle reaches 4,200 employees and pla...

Colin C. Lovering: Meet the speakers at Romanian Business Services Forum & Awards 2019, on May 7

Colin C. Lovering has been living and working in Romania since 2009 when he arrived to offer consultancy and advice to organisations looking for growth and profitability and founded Achieve International.
Read Full article »
Antoniu Panait: Meet the speakers at Romanian Business Services Forum & Awards 2019, on May 7

Managing Director for VASTINT Romania since 2009, Antoniu Panait has an executive experience of more than 10 years, mainly in real estate.
Read Full article »
Andrei Voica: Meet the speakers at Romanian Business Services Forum & Awards 2019, on May 7

Andrei Voica, Director Project Management and Workplace Consultancy, Colliers International. Truly passionate about his work and always eager to add value to each project.
Read Full article »
Romulus Caralicea: Meet the speakers at Romanian Business Services Forum & Awards 2019, on May 7

Romulus is Wipro's Information Security, Risk & Compliance Lead for Europe. In his role he is managing internal audits and compliance activities for all clients and internal functions based on the corporate ISO
Read Full article »
George Didoiu: Meet the moderator of Romanian Business Services Forum 2019 CEO LEADERS DEBATE, on May 7

In his 15 years of real estate, George Didoiu advised on the relocation of top IT&C, finance-banking and consultancy companies, which total over 10,000 employees.
Read Full article »