Medium-sized companies relocate from class B to class A-offices in Timisoara

The office market in Timisoara witnesses a new trend: the relocation of companies from class B spaces to class A and the increase in attractiveness of modern office projects for firms with less than 50 employees.

Thus, Vox Technology Park office project leased 1,600 square meters to several IT, technology and service companies, all deals have been closed in 2019.

"As the office market in Timisoara continued to develop and the modern office stock increased significantly, more and more small and medium sized companies discover the benefits of doing business in a modern office project with multiple facilities and that offers the opportunity of working in a space where there are also other companies from the same field, thus encouraging innovation and personal development", stated Vlad Vela, general manager of Vox Property Group, the developer of Vox Technology Park.

The relocation into o modern office building is also a method of staff retention in the context in which the unemployment rate in Timisoara dropped below 1 percent. Thus, meal tickets are the simplest incentive for employees, medical and fitness subscriptions, flexible working hours or different facilities existent at the office being other options for employee retention.

"Moving your offices to a modern building is a decision with a small cost that will make the employees happier. The additional cost between leasing a Class B office space and a Class A office is about EUR 3 for employee, which translates into RON 150 per month for every employee, less than a 5 percent increase for an medium wage in Timisoara," added Vlad Vela.

Vox Technology Park has a leasable area of 26,600 square meters and was delivered after an investment of over EUR 30 million. The projects offer unique facilities, such as the possibility of biometric identification through an app that generates a QR code after facial or fingerprint recognition, and competitive advantages for employees, such as dedicated spaces and showers for cyclists, food court, gym, commercial and service spaces. The project also received recently the final BREEAM green certification with Excellent rating and an overall score of 86.7 percent, the highest ever obtained by a real estate project in Romania.
Vox Property Group also started, at the end of 2018, the developing of Vox Vertical Village residential project, located in the near vicinity of the office project.

Vox Vertical Village represents a premiere concept on the Romanian market, being the first 'vertical village' developed on the local market. The project is due to be delivered at the end of 2019 after an investment of EUR 14 million. Over 1,000 trees and plants are to be planted on the terraces and interior spaces within the project.

The project will offer to the future buyers a series of facilities, such as a generous atrium, an exterior pool, reception, cinema and a fully equipped gym. The general construction manager of the project is PORR Construct, one of the biggest construction companies active in Romania.


---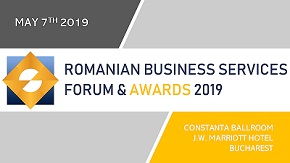 » Huawei opens a centre on cyber securit...
» ROMANIAN OUTSOURCING AWARDS FOR EXCELL...
» Romania ranks above EU average in gend...
» Bucharest, in the top of cities in Eur...
» Berg Software Romania: Reasons to outs...
» KPMG launches an application enabling ...
» Bogdan Pelinescu, president of ABSL: A...
» Meet the experts who will decide the w...
» ABSL GALA AWARDS celebrated its winner...
» Oracle reaches 4,200 employees and pla...

Colin C. Lovering: Meet the speakers at Romanian Business Services Forum & Awards 2019, on May 7

Colin C. Lovering has been living and working in Romania since 2009 when he arrived to offer consultancy and advice to organisations looking for growth and profitability and founded Achieve International.
Read Full article »
Antoniu Panait: Meet the speakers at Romanian Business Services Forum & Awards 2019, on May 7

Managing Director for VASTINT Romania since 2009, Antoniu Panait has an executive experience of more than 10 years, mainly in real estate.
Read Full article »
Andrei Voica: Meet the speakers at Romanian Business Services Forum & Awards 2019, on May 7

Andrei Voica, Director Project Management and Workplace Consultancy, Colliers International. Truly passionate about his work and always eager to add value to each project.
Read Full article »
Romulus Caralicea: Meet the speakers at Romanian Business Services Forum & Awards 2019, on May 7

Romulus is Wipro's Information Security, Risk & Compliance Lead for Europe. In his role he is managing internal audits and compliance activities for all clients and internal functions based on the corporate ISO
Read Full article »
George Didoiu: Meet the moderator of Romanian Business Services Forum 2019 CEO LEADERS DEBATE, on May 7

In his 15 years of real estate, George Didoiu advised on the relocation of top IT&C, finance-banking and consultancy companies, which total over 10,000 employees.
Read Full article »