Oracle Academy numbers 650 students and 200 teachers participating within its projects in the past six months

In the past year, worldwide, Oracle Academy worked with more than 15,000 educational institutions across 128 countries, supporting more than 6.3 million students worldwide to prepare them for careers in our technology-driven global economy.

Oracle Academy has a successful track record in Romania for more than a decade. Thousands of teachers and students have participated in various Oracle Academy programs, and some courses have become part of the national curriculum. Success is also due to the local partner, Adfaber, who brings Oracle Academy programs close to pupils and schools. Also, the number of teachers and students interested in the program is increasing; in the last half year, 200 teachers and 650 students actively participated in the Adfaber and Oracle projects.

Oracle Academy leverages Oracle's global technology leadership to offer a complete portfolio of computer science education resources to secondary schools; technical, vocational, and two-year colleges; and 4-year colleges and universities, with the goal of helping students become college and career ready.

Demand for professionals in digital technology has increased by 4 per cent, annually over the last 10 years, according to a European Commission document. For example, the implementation of cloud computing technology has the potential to generate about 2.5 million jobs by 2020, according to a study prepared for the European Commission. However, companies in Europe are striving to find the right IT & C specialists to support them. In the same Digital Diversity Report, the Commission predicted that the gap between IT & C demand and supply would increase to around 500,000 by 2020.

To support continuous computer science learning at all levels, we make available a variety of resources that can be used in the classroom and in not-for-profit academic course- and degree-related research, including technology, curriculum and courseware, student workshops, educator training, and Oracle industry certification and exam preparation materials. Students develop IT and business skills while using production software used widely across hundreds of industries, and educators keep pace with current technology through ongoing professional development.
Education is a prerequisite to community stability, economic prosperity, and future innovation, and students and educators who engage with Oracle Academy gain industry-relevant skills and knowledge that enrich their futures.

In Romania, among the most successful projects developed under Oracle Academy's umbrella are: "Women in IT" , Getting Started with Java Using Alice, Getting Started with Java using Greenfoot.
Java is a widely used programming language at the international level, being one of the most required skills for a programmer. The Java Competition "Code with Greenfoot" ended in March 2019. A total of 70 teachers and 144 high school students participated to demonstrate their programming skills. Contest participants have had the opportunity to practice and expand their programming skills in Java and, with the help of their coordinating teachers, have created real "virtual" worlds. This year's winning project has been designated to Wizard Quest by the students of "Apáczai Csere János" high school in Cluj-Napoca, followed by the Robo War project of the Dragoş Vodă National College's pupils in Sighetu-Marmaţiei and "Spatial project" developed by the students at Nichita Stănescu National College in Ploiesti.

---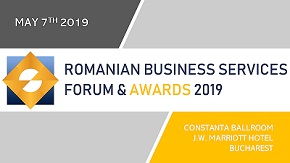 » Meet the winners of ROMANIAN BUSINESS ...
» Evolving from consumers of resources t...
» ROMANIAN OUTSOURCING AWARDS FOR EXCELL...
» Pepper Escu, the first humanoid robot ...
» Rebranding Creativity 2019, the first ...
» Volvo Cars and Uber present production...
» Preparing for the new future
» Berg Software Romania: Reasons to outs...
» George Rotariu, CEO Bitcoin Romania: B...
» George Didoiu: Meet the moderator of R...

Digital Transformation Conference to take place on June 19 at Bucharest

The Diplomat – Bucharest organizes Digital Transformation Conference to be held on 14 of June in Bucharest, at Hilton Hotel - Regina Maria Hall, starting 8:30 AM.
Read Full article »
L&D Conference by The Diplomat Bucharest took place on June 4th at Bucharest

The Diplomat-Bucharest organizes the Third Edition of its Learning & Development CONFERENCE on 4 June, 2019 at InterContinental Hotel Bucharest starting 09:00 am.
Read Full article »
Meet the winners of ROMANIAN BUSINESS SERVICES AWARDS, 2019 edition

ROMANIAN BUSINESS SERVICES FORUM & AWARDS 2019, in its fifth year, brrought on May 7, in Bucharest, a new concept event with engaging keynote sessions by industry leaders, interactive panel discussions, network
Read Full article »
Few hours away from to the long awaited CEO Leaders Debate, a premiere of Romanian Business Services Forum and Awards

We are a few hours away to the long awaited CEO Leaders Debate, a premiere of Romanian Business Services Forum and Awards on May 7.
Read Full article »
Colin C. Lovering: Meet the speakers at Romanian Business Services Forum & Awards 2019, on May 7

Colin C. Lovering has been living and working in Romania since 2009 when he arrived to offer consultancy and advice to organisations looking for growth and profitability and founded Achieve International.
Read Full article »