Analysis: Romania needs 1 million workers and 10,000 industrial robots

The Romanian economy has been facing for several years an acute crisis of workforce, the necessary of workers being evaluated at approximately 1 million people, but 10,000 industrial robots as well, shows an analysis of the company Frames.

"Similar to the Western part, besides hiring and training employees, the companies look for solutions which could reduce the impact of workforce, and robotization, automation and digitization of the services are the key solution. Many companies are undergoing a process of restructuring of the business in order to harmonize their resources and services with Industry 4.0, concept which defines the fourth industrial economic revolution", the analysis shows.

As a whole, Industry 4.0 refers to businesses which have digitized their technologies so that installations and equipment can communicate through the internet, with the help of new technologies.

From communication networks, to robots, 3D printers, control systems and in the future, automated machines, Industry 4.0 will impact significantly the economy, offering a degree without precedent of automation and operational independence.
'The Romanian economy necessitates significant investments to adopt to new industrial revolutions. Beyond the training of the employees, it is necessary to develop automated services where robots will play a significant role' the analysis says.

A recent study, made at the command of Universal robots, shows that entrepreneurs and managers in Romania started to become aware about the impact of the new technologies in economy, with solutions for automation and robotisation to increase production and drop costs.

"This fourth industrial revolution will bring fundamental changes in the mechanisms of economy and Romania must be prepared. The training of the employees to support new technologies must come first. Economic competitiveness will depend, greatly, on the way in which the companies will adapt to Industry 4.0 including the way in which efficient support mechanisms will develop," stated Lidia Neacsu, representative of the training and consultancy company best Smart Consulting which organized 50 courses co-financed through the Social European Fund through the Operational Programme Human Capital 2014 – 2020.

According to the data of the International Federation for Robotics Romania has, at present, 11 robots for 10,000 industrial workers and it would need at least 10,000 industrial robots.

By comparison, in Poland there are 28 robots/10,000 employees, in Hungary there are 57 robots and the Czech Republic there are 100 robots /10,000 workers. In the US the American industry incorporated over the last 10 years over 130,000 robots.

The project Smart Industry 4.0 organised by Best Smart Consulting was co-financed through the European Social fund through the Operational programme Human Capital 2014 – 2020 and worth 3.52 million lei, out of which 3.23 million lei (95%) through non-refundable financing.





---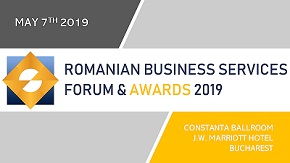 » Meet the winners of ROMANIAN BUSINESS ...
» Evolving from consumers of resources t...
» ROMANIAN OUTSOURCING AWARDS FOR EXCELL...
» Pepper Escu, the first humanoid robot ...
» Rebranding Creativity 2019, the first ...
» Volvo Cars and Uber present production...
» Preparing for the new future
» Berg Software Romania: Reasons to outs...
» George Rotariu, CEO Bitcoin Romania: B...
» George Didoiu: Meet the moderator of R...

Digital Transformation Conference to take place on June 19 at Bucharest

The Diplomat – Bucharest organizes Digital Transformation Conference to be held on 14 of June in Bucharest, at Hilton Hotel - Regina Maria Hall, starting 8:30 AM.
Read Full article »
L&D Conference by The Diplomat Bucharest took place on June 4th at Bucharest

The Diplomat-Bucharest organizes the Third Edition of its Learning & Development CONFERENCE on 4 June, 2019 at InterContinental Hotel Bucharest starting 09:00 am.
Read Full article »
Meet the winners of ROMANIAN BUSINESS SERVICES AWARDS, 2019 edition

ROMANIAN BUSINESS SERVICES FORUM & AWARDS 2019, in its fifth year, brrought on May 7, in Bucharest, a new concept event with engaging keynote sessions by industry leaders, interactive panel discussions, network
Read Full article »
Few hours away from to the long awaited CEO Leaders Debate, a premiere of Romanian Business Services Forum and Awards

We are a few hours away to the long awaited CEO Leaders Debate, a premiere of Romanian Business Services Forum and Awards on May 7.
Read Full article »
Colin C. Lovering: Meet the speakers at Romanian Business Services Forum & Awards 2019, on May 7

Colin C. Lovering has been living and working in Romania since 2009 when he arrived to offer consultancy and advice to organisations looking for growth and profitability and founded Achieve International.
Read Full article »