Oracle reaches 4,200 employees and plans further expansion - Exclusive OT print issue
While Sorin Mindrutescu, Oracle's general manager for Romania, added to his functions the leadership of its central and eastern Europe Cloud division, the company grows solidly to about 4,200 employees, about a third more than last year's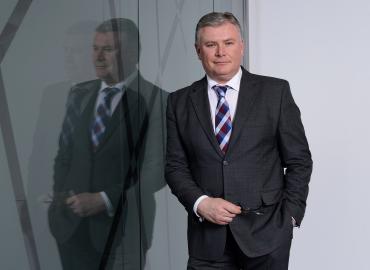 HR offices are burning hot in Oracle's Northern Bucharest offices, as the company has hundreds of positions opened at any given time. Soon the company will expand from Floreasca Park to Oregon Towers, a new building under construction whose design was initiated by Portland Trust.
The building has 3,400 square meters per story, and Oracle leased a total of 20,104 sqm – an entire building. (Oracle took building A, and there are still available - to our knowledge - buildings B and C, of 24,600 sqm each).
"We're growing steadily, but we cannot reveal the rate…Most of our employees are involved in outsourcing processes for worldwide clients. We have several divisions, from software to cloud and hardware," Mindrutescu tells Outsourcing Today.
As the global environment is more and more Cloud, Internet of Things and Big Data-oriented, Oracle's latest moves have focused around this trend. And it has grown locally to become the second largest centre in the entire EMEA region (Europe, Middle East and Africa), after the one in the United Kingdom.
Besides Bucharest, the company also selected Iasi for a second centre, and there are 50 employees there just in the Product Development division. The Bucharest SSC has by itself close to 1,000 employees, more than 30 services lines and a 27-language skillset.
Although Mindrutescu has not revealed the pace of the Romanian expansion, our estimates set it at around 35 per cent a year.
And the Romanian centres focus more on innovation than we might think, says Mindrutescu.
"Ever since this industry started some 15 years ago, many put an emphasis on back-office activities. But although this is an important segment, I think the development, innovation, technical support and high-added value segments and business lines should be mentioned more."

Romania, the new IT El Dorado
New IT and non-IT firms relocate their shared services and IT support centres to Romania, and Tier II cities move up a notch, says Mindrutescu.
"We heard of Miercurea Ciuc, Bacau and Craiova, many cities that previously were not chosen by investors. We are glad that the cities and towns that were not the first choice are becoming more developed."
Oracle started developing local operations about 20 years ago, and Romanians inside Oracle now combine 27 foreign languages with technology capabilities.
"During the past six years we have been among the top employers in the market, cross-industry, not just in IT."
Romania's more than 120,000 IT specialists (according to Oracle-consulted statistics; according to OT estimates the level of IT professionals exceeds now 200,000) means that per capita the engineer number is larger than in other countries.
Oracle's local remote capabilities include a plethora of functions, not only call-centre related lines. Romania is the second largest European entity and the fifth global one, with Oracle local centres in Bucharest offering more than 30 functions. "There are functions ranging from Fusion Cloud applications to Open standard, from Java to testing engineering - we have deep core departments."
About 12 per cent of the overall Oracle global software support is in Bucharest and Iasi. "The few months that have seen us function in Iasi brought us about 50 engineers, in a 24/7 support technical assistance model." During the past three years, Oracle's local 24/7 support total assistance team grew from a 250 to about 1,000 personnel figure countrywide.
Besides local clients, the support team serves all kind of clients in all global areas.
"We have now reached an overall Romanian employee figure of more than 4,200," says Mindrutescu, meaning an about doubled figure over June 2011.
Global companies to undergo major changes
An S&P 500 companies survey started with the 1950s showed that each company within the index used to maintain the index criteria for an average of 61 years, while nowadays the average is just seven years, says Mindrutescu.
The 2008 financial turmoil reshaped the index, and while companies were still affected by the crisis, they are more deeply reshaped by the new technologies.
"According to Professor Richard Foster's analysis, 75 percent of the companies comprising the S&P 500 index will be out of the index by 2027. This offers us a perspective about the way that companies are burnt out in an ever-changing economy," he adds.
At the same time, IT expenditure dropped significantly during the past years, with a 5.1 per cent decline in 2015 alone. "It is all about a fundamental change in the way that the companies are spending money. The 500 companies in the S&P index used 54 per cent of their capital to buy back their shares, instead of investing it, and 37 per cent were offered as dividends to shareholders. Little money left, then, for IT investments."
The markets are changing, the capital expenditures are dropping and changing purpose.
"This shows we enter an entirely new economic cycle. We have seen significant changes in the company's business models due to technology. We have seen the economy's UBER-isation, how to be one of the largest taxi operators worldwide but not own any car; we have also seen how to be largest hotel operator worldwide but not own a hotel thanks to Air B&B.
Change of the traditional business concepts
Applications change the fundamentals of industries: Uber does not own cars, does not have licenses and does not cash via drivers. It has just 4,000 employees, and uses 160,000 drivers, all due to technology.
"Entire business models have changed. We had internet, social media, Cloud, Big data, and now 3D printing – Internet of Things…there are many things to come."
Also, millennials have become consumers, and coming of age they move to the concept of share mobility. In the US, many millennials re-write the economy and the consumption rules.
"All of these changes of the business models raise questions regarding the development patterns of the IT industry. Currently it is based on legacy systems, and 80 per cent of the money goes to maintenance. Cyber security is more and more needed…the traditional systems are more and more under stress and the answer is moving all the instances to the Cloud," he explained.
The infrastructure, platform and software as a service (IaaS, PaaS, SaaS) capital expenditures are estimated to reach about 550 billion USD by 2025.
"By 2025, the very few SaaS providers will have the possibility to resist in the market, especially since an entire variety of applications will have to be in the public Cloud, and not many will be able to provide it."
Also, the utility industry is under a lot of stress; technologies such as those needed by smart metering or the financial system will need new investments – and the Cloud development will come naturally, as the supplier will make the investment instead of the investor itself. Storage will also undergo this pattern.
Cyber security is also important, and Cloud services will also count in this feature when taking into account the supplier.
"There's a new shift in the industry, and all will change, including business models. Costs and complexity will go down, and for example on-premises database increments when setting will simplify from 700 to 30 steps."
The first Oracle office was established in Romania more than 20 years ago (1995); with this, Oracle was the first major software company to have a direct presence in Romania.