Genpact's COO: Staying ahead of the curve

Shibu Nambiar has over 18 years of experience in the services industry, covering roles in operations, project management, service delivery, product development, domain management and training.

In January 2016, he was appointed SVP and Chief Operating Officer of Genpact Europe, Latin America and Africa, tasked with growing over 10,000 team members across 12 delivery locations. Beyond figures and accolades, The Outsourcing-Today wanted to find out how Genpact's COO is acting within his daily work environment and what is his vision regarding the present and the future of the local outsourcing market.

If you are to meet Shibu Nambiar at his office, don't look too far in Genpact's friendly and accommodating workplace and expect to find a stiff manager behind a desk… For conducting this interview, he welcomed us surrounded by his colleagues in a colourful open space office. As Shibu told us - his natural curiosity, his strong belief that we must get ready for a very fast and digital future, as well as his tight connection to multiple cultures and business patterns help him to clearly understand where the outsourcing market is heading to and how well the industry stakeholders are getting prepared for the future demands of the clients.

According to Shibu, in 2005 the business services industry in Romania was barely present when Genpact - a pioneer on the markets - opened a single Bucharest office with 100 to 200 employees. Prior to that, Genpact set up a centre in Budapest in 2002 which ran until 2012, serving a large portfolio of clients from all over the world. A few years later, the local market became saturated, taxes rose and business suffered, forcing Genpact to consider other solutions for an Eastern Europe centre in Romania, Bulgaria or the Czech Republic.

Nurturing a young but talented market

Why Romania? According to Shibu Nambiar, in 2005-2006 Romania was a fresh and welcoming destination for the outsourcing players. And while this market is now tremendously developed Genpact needed to look at several factors when deciding to establish its new company. "One of the first parameters was the availability of talent with proven proficiency in European languages. Mindful of our customers' needs, the second necessary asset was the ease of doing business locally. Also very important for us was the market saturation indicator," said Shibu Nambiar.

Ten years ago, Genpact was among the early movers in Romania. "Being one of the first on the market established a very important competitive advantage. We have senior leaders in Genpact who started as juniors and now lead international teams and multiple divisions of hundreds of people. We created talented leaders in the Romanian outsourcing industry. This gives me a fantastic sense of pride.You can find Genpact's DNA throughout the local outsourcing industry in Romania." This DNA is preserved and cultivated at Genpact on a daily basis, as Shibu - a keen supporter of continuous learning and self-education – states. Being a company which by its inner definition is young at heart, Genpact attracts young professionals that are looking for an environment offering them the opportunity to grow. This is the core philosophy at Genpact, the chance offered to the employees to continuously develop through customized training programs and personalized career plans, as well as their opportunity to work within a diverse team spread across countries or continents. "A young professional should be persevering in this growth…building a career takes time, patience and persistence in following goals." As the manager emphasizes, the freedom of self-developing as a professional is open and transparent within the company he represents.

Asked about the retention practicess, Shibu bluntly commented: "If you are to leave a company, be sure you are doing it for the right reasons. You have to put in balance your life-career strategy against all the other reasons that may convince you to follow a different path and not always money is the right reason. The chase for money is often proved to be the damaging path for careers. As a young professional, one should have patience and understand that without self-education, curiosity and continuous learning, the growth doesn't happen overnight." The present-future mindset Genpact currently runs ten delivery centers in Europe. Romania covers its most complex operations in the region, while Poland accommodates the largest number of delivery locations on its footprint. The company aims at opening a centre in the Baltics but is also looking at other European locations, such as Germany.

"If you look at the entire industry - SSC, BPO, ITO or KPO - the centres in Eastern Europe only exist because they were moved from Western Europe due to costs. This situation allows us to create tailor-made solutions for our customers, based on specific needs and skillsets, creating the right combinations and enabling them to function in multiple centres. Being among the first on a specific market such as outsourcing services, triggered a very important competitive advantage for our company."

When discussing about embracing new technologies, Shibu underlines the urgent need for all industry stakeholders - decision makers, employers and employees - to educate and differentiate through continuously improved technology skillsets. "Think about the natural language processing tools (NLP) right now, or the Quantum computers; the new technologies are slightly more expensive compared to human input at this moment but the future is closer than we think. The technology creates reliability and repeatability, which are actually the two parameters our customers are looking for. This will erode the dependency on people." Shibu foresees that the predicted trends will be met. "I have to take care of the teams I have built, to encourage and support them in creating a new set of skills in order to stay relevant. Genpact develops mechanisms to bring more awareness about this, including different certification processes. We develop leaders who understand digital technology and its future, focussing on deploying digitallyled solutions to add value for our customers to perform at their best." Shibu has a natural self-educated curiosity and interest in learning and understanding different cultures, he enjoys challenges while driving constant change with his teams. As he exemplifies when motivating his team members, he is not a fan of "Do It Yourself".

For him, collaboration is key and the leaders are not self-made, but driven by a strong coach. Growing deep roots in the community Shibu is recognized for his continuous efforts to build on Genpact's brand value and boosting the company's external engagement in the Romanian community. He is the charismatic speaker in various Genpact driven initiatives or external events the company is part ofsuch as specialized conferences and summits, academic and student events.

In Romania, Shibu Nambiar successfully runs a complex operating model in the outsourcing industry. Under his lead, Genpact Romania was publicly recognized in various outstanding business forums, as: The Outsourcing Company of the Year, The Business Leader in Business Excellence, The Business Leader in Customer Initiative, for setting up The CSR Event of the Year (3 distinct awards) and as The Gold Partner for United Way.

Genpact in Romania

As the largest employer and talent developer in the business services industry in Romania, with over 3,500 employees in Bucharest and Cluj-Napoca, delivering services for 50+ multinational companies in 20 foreign languages, the company has grown on average 16% YoY. Company figures show over 1,400 new hires in 2016. Genpact opened its first Romanian center in Bucharest in 2005 and this year moved to a new Class A building with 25,000 sqm. and 3,300 seats. Genpact's first Cluj- Napoca site was opened in 2007 and expanded to a second center in 2010. Throughout Europe the company has over 5,000 employees in Romania, Poland, Slovakia, the Netherlands and the United Kingdom delivering business impact of 220 million USD in services ranging from F&A, Procurement, IT Support and Customer Service to Business Consulting/ Process Reengineering.

---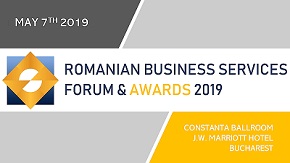 » Meet the winners of ROMANIAN BUSINESS ...
» Federal-Mogul inaugurates new manufact...
» TELUS International Europe awarded Mos...
» TELUS International Europe: Assessing ...
» Wipro launches automotive center of ex...
» Why AFI Tech Park is the best value fo...
» CBRE: Office deliveries expected to br...
» Exclusive OT: Federal-Mogul to expand ...
» Ciprian Dan, Wipro BPS: The industry n...
» Romanian Outsourcing Awards for Excell...

Workplace of the Future conference to take place on November 20th at Bucharest

The Diplomat-Bucharest together with Outsourcing Today organize the 3rd Edition of WORKPLACE OF THE FUTURE, on 20th of November 2019, in Bucharest, at Capital Plaza Hotel.
Read Full article »
Strategic Talent Acquisition at People Empowering Business Forum on October 30 in Bucharest

Latest trends like demographic upheaval, globalization, digital technology, and changing social values and worker expectations, are disrupting business models and radically changing the workplace. These are req
Read Full article »
Informal IT School and UiPath launch an educational program for RPA development to start in October

Informal IT School announced a partnership with UiPath to launch an RPA development educational program of five months, 100 hours of courses, five days a week. The program will run in Cluj-Napoca.
Read Full article »
Impact Hub Bucharest joins 3house to manage three coworking spaces in the city

Impact Hub Bucharest, a coworking spaces manager and developer of accelerator programs and events merged with 3house, a new concept of workplace launched in 2018. By this, Impact Hub reaches 3 locations and 6.7
Read Full article »
JLL: Total office space in Bucharest to reach 3 million sqm

The second quarter of 2019 reconfirmed the increased interest for the office market in Romania. Over 115,000 square meters of office space were leased over this period at the national level, a value similar wit
Read Full article »