Why AFI Tech Park is the best value for money office project in Bucharest(P)
Based on the insight that location is a strong criteria employees take into consideration when choosing their workplace, AFI Europe Romania is currently developing AFI Tech Park, the newest office destination in Bucharest, in the area of 13 Septembrie and Tudor Vladimirescu Boulevards, developed under the motto "Time is money, don't spend it in traffic! "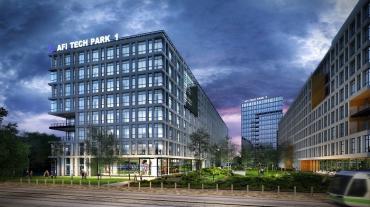 The project has a strategic position, being located in downtown Bucharest, near the JW Marriott Hotel and the Romanian Parliament, 10 minutes away from City Centre Unirii, in addition to being located at the intersection of 3 major residential neighborhoods – districts 4, 5 and 6, which are totaling over 60% of the city's workforce population.
In order to reduce the time it takes to get to work and back home, the Business Park is accessible by public transportation from all parts of the city. Furthermore, it is easy to reach by car as its privileged position in Bucharest places it against traffic.


AFI Tech Park, the best solution for time and money saving
AFI Tech Park is cost effective for multinational companies from various points of view.
A unique service which will be provided to the tenants in Tech Park is a 400 sqm conference hall to be shared by the tenants in the park.
This allows the tenants to avoid the necessity of having such large halls within their spaces throughout the term of the lease.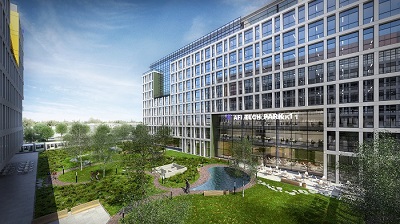 Secondly, the project has already obtained the
LEED Platinum
pre-certification. This certification translates into the fact that 90% of the regularly occupied areas have access to view over 20% reduction in energy costs, improved indoor air quality through increased filtering or more than 30% reduction of water consumption.
Together with the surrounding retail facilities (Vulcan Retail Park, Liberty mall), the office project is bringing additional benefits such as: "AFI Club" membership offering discounts for lunch and other services, and also the first car sharing service in Bucharest.
AFI Tech Park is a 56,000 sqm GLA of Class A offices, developed in 3 phases and targeting companies from the FMCG, Automotive, IT&C, BPO and shared services markets, seeking to upgrade their facilities to a new Class A offices.
The first phase of the project will be delivered in Q2 2018, offering 20,000 sqm GLA office space and 2,000 sqm of retail area, including the already signed tenants World Class fitness club and "1 Minute" boutique. The project is developed to comprise two office buildings with GF+8 floors and one office tower of 14 floors, all surrounded by over 5,000 sqm of green areas. The Class A building provides high technical standards, expansion options and many more amenities for its future tenants.
"Nowadays in the digital application era, it's a fact that employees, especially from generations Y & Z, are the ones shaping the office market and are the ones that do not wish to spend their life in traffic. This is why we are offering companies to open a second location closer to employee's homes. This advantage will help recruitment and improve the employees' rate of replacement ratio", says Tal Roma, Development Manager, AFI Europe Romania.